On Saturday I decided to check out The Mom Made Market which was being hosted at the Convention Center in Honolulu. I was able to score some tickets through Yelp (yay!) so my friend and I decided to meet up around 11AM. This is totally the kind of event I am into. Supporting local artists that are either moms or cater to moms, I'm all about it!
The place was already buzzing as we entered the massive main hall. There were a number of tables and booths, some more "set-up" than others, creating their own mini-shops. There was jewelry, bags, clothing, toys and more. Most things completely custom and handmade.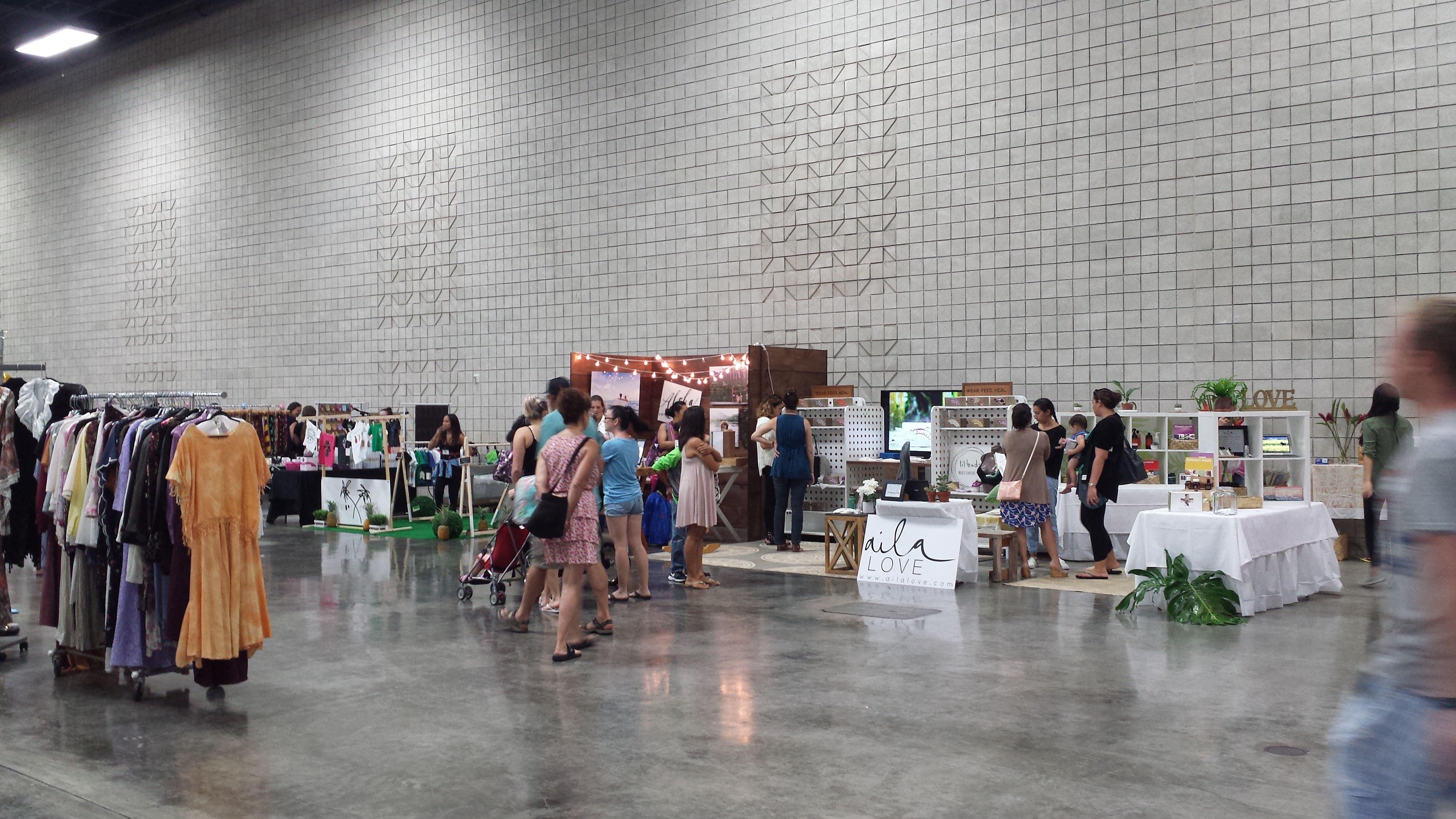 My first impression of the event was that I wish it had more artists. Maybe it is the size of the convention hall that is hard to fill, or maybe this particular event just needs to "catch-on" here in Hawaii. I'd say the room was about half-full, room for growth I guess!
There were a lot of jewelry artists. The trend seems to lean more delicate and minimal in style overall. Many pieces were inspired by the Islands of course, wave rings, arrangements of different shells and other nature-centric pieces.
There were a couple of artists that really stood out to me. They seemed to be doing things a bit different and I found myself gravitating toward their work.
Lei Chartru displayed a mix of handpainted leather earrings, which I actually didn't even realize were leather until I got a closer look! They are chic in a boho sort of way and so lightweight that you barely feel that you are wearing them. They give off a beachy sort of vibe that can be paired with both casual and more formal looks. Just love them. Take a peek!
Sun Kissed Mermaid had a wide range of custom made jewelry pieces ranging from bangles, necklaces, earrings and even keychains. There was a combination of delicate shells, beads, charms and tassels, yes tassels, which are so on-trend right now. I was immediately drawn to the longer necklaces that showcased the tassels and was surprised to see that not only were some of the tassels made with silk thread but some were actually beaded tassels! So freakin' adorable and unique!
With so many artist out there it is hard to stand out, these two artists definitely caught my eye. Check out both of their IG accounts linked above or their Etsy pages. You will not be disappointed!
---
https://www.etsy.com/shop/leichartru
https://www.etsy.com/shop/SunKissedMermaid808

---
Want to know where The Mom Made Market is headed next?
Check em' out!