On our weekend trip to Kauai we tried to explore as much of the island as possible. This of course included an exploration of food. Below is a compilation of where and what we ate over the weekend. So here we go, Kauai breakfast, lunch, dinner and of course treats!
---
Breakfast
Kalapaki Beach Hut
3474 Rice St
Lihue, HI 96766
This was our first stop after getting off the plane. Not far from the airport in Lihue, Kalapaki Beach Hut offers a great breakfast at a decent price. Seems like everyone had the same idea though. There was a bit of a line but the wait wasn't too long.
I got the Portuguese Sweet Bread French Toast and it was awesome!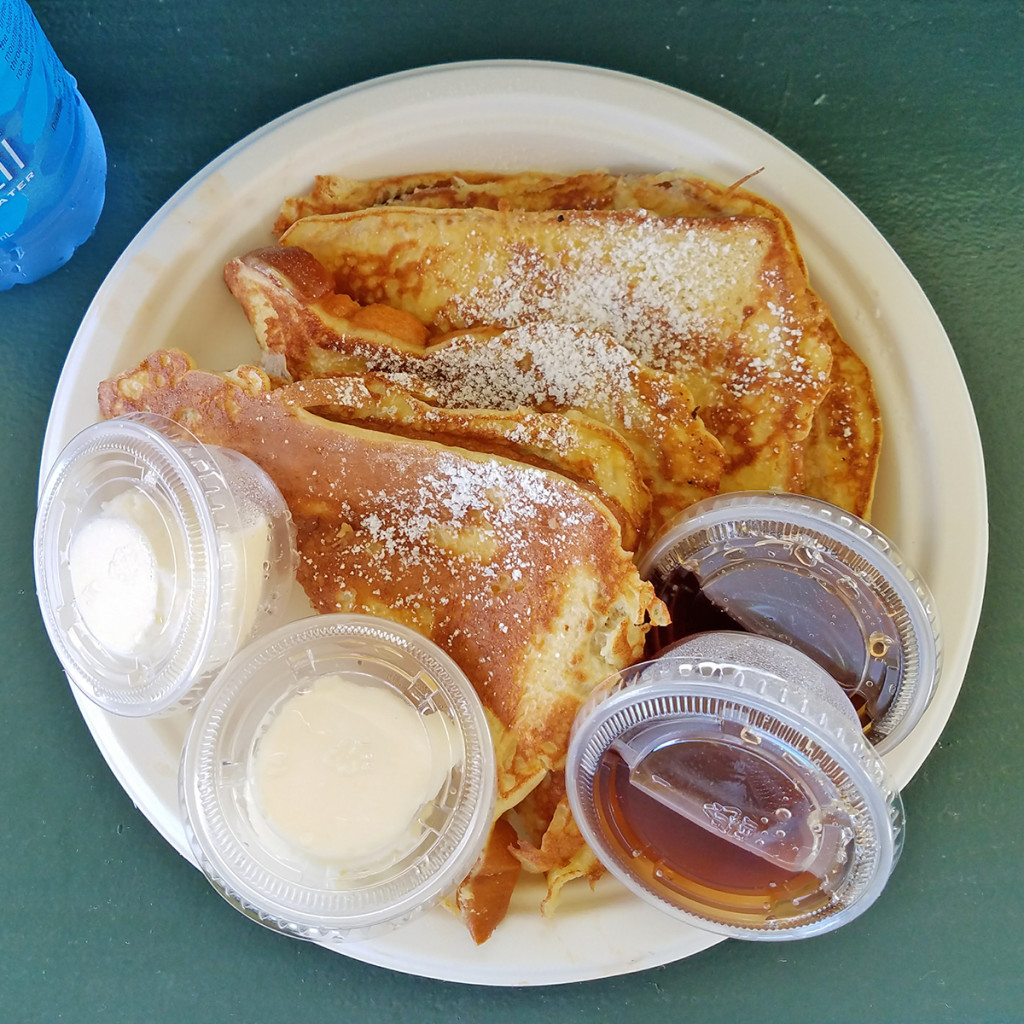 Naupaka Terrace Restaurant
Kauai Beach Resort
Lihue, HI 96766
We ate here out of convenience one morning because we were staying at the resort. I usually tend to stay away from resort dining due to the prices but breakfast here was quite nice and didn't completely break the bank.
I got the Sweet Potato Skillet and it was great. Paired with a nice local cup of joe and I was good-to-go.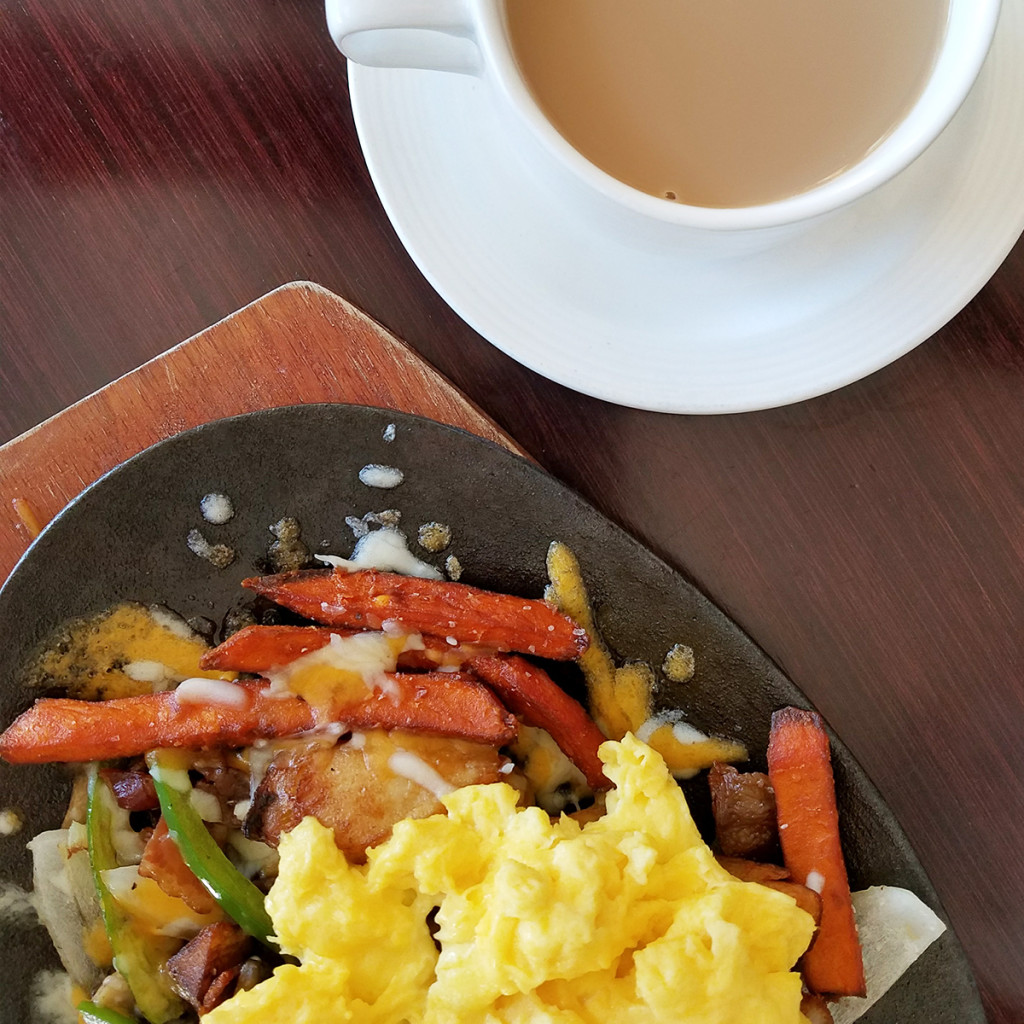 ---
Lunch
Hanalei Taro & Juice Company
5-5070 Kuhio Hwy B
Hanalei, HI 96714
We stopped at this lunch truck on our way up north. We must have hit it at a good time because there wasn't much of a line. It's in a prime location close to shopping in Hanalei and offers some great Hawaiian food favorites.
I got the Kalua Pork Tacos. A bit salty but yummy just the same. They were huge so next time I might have opted for just one and maybe try something else as well.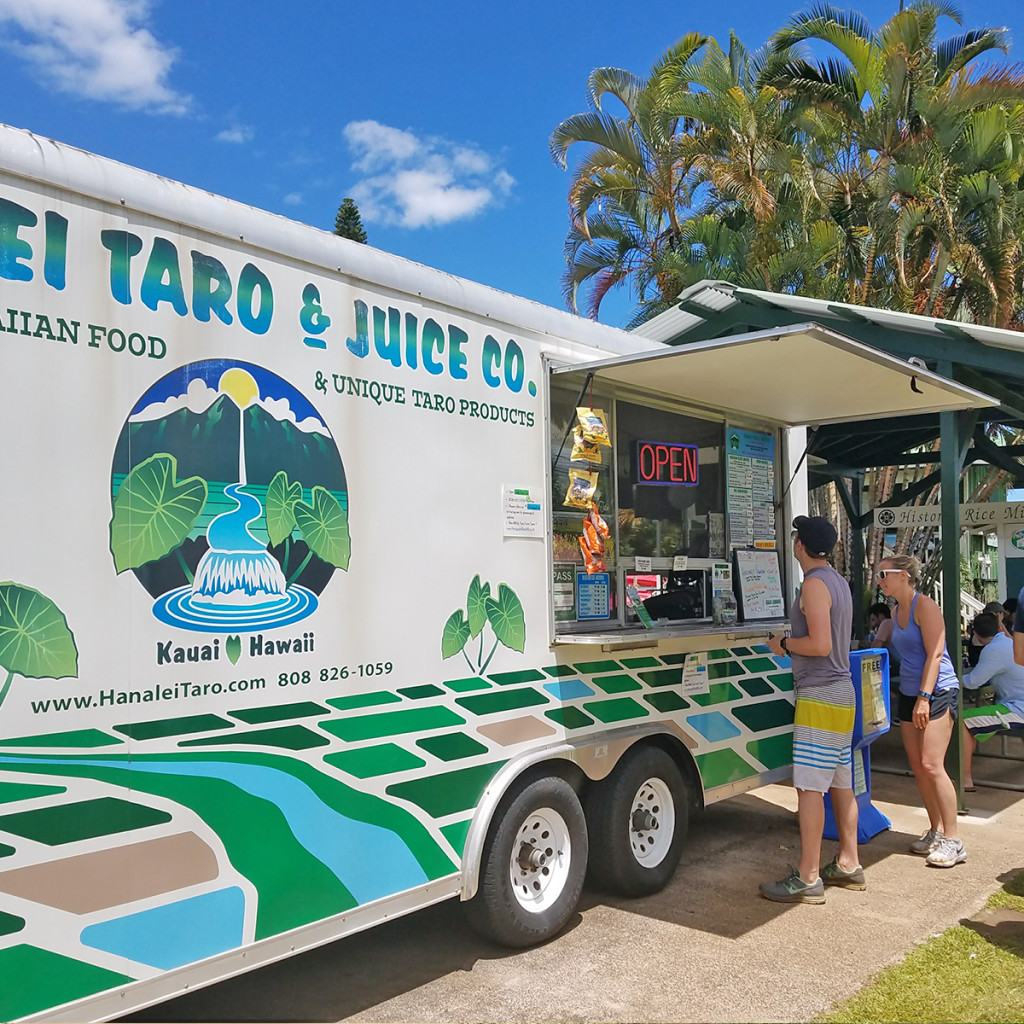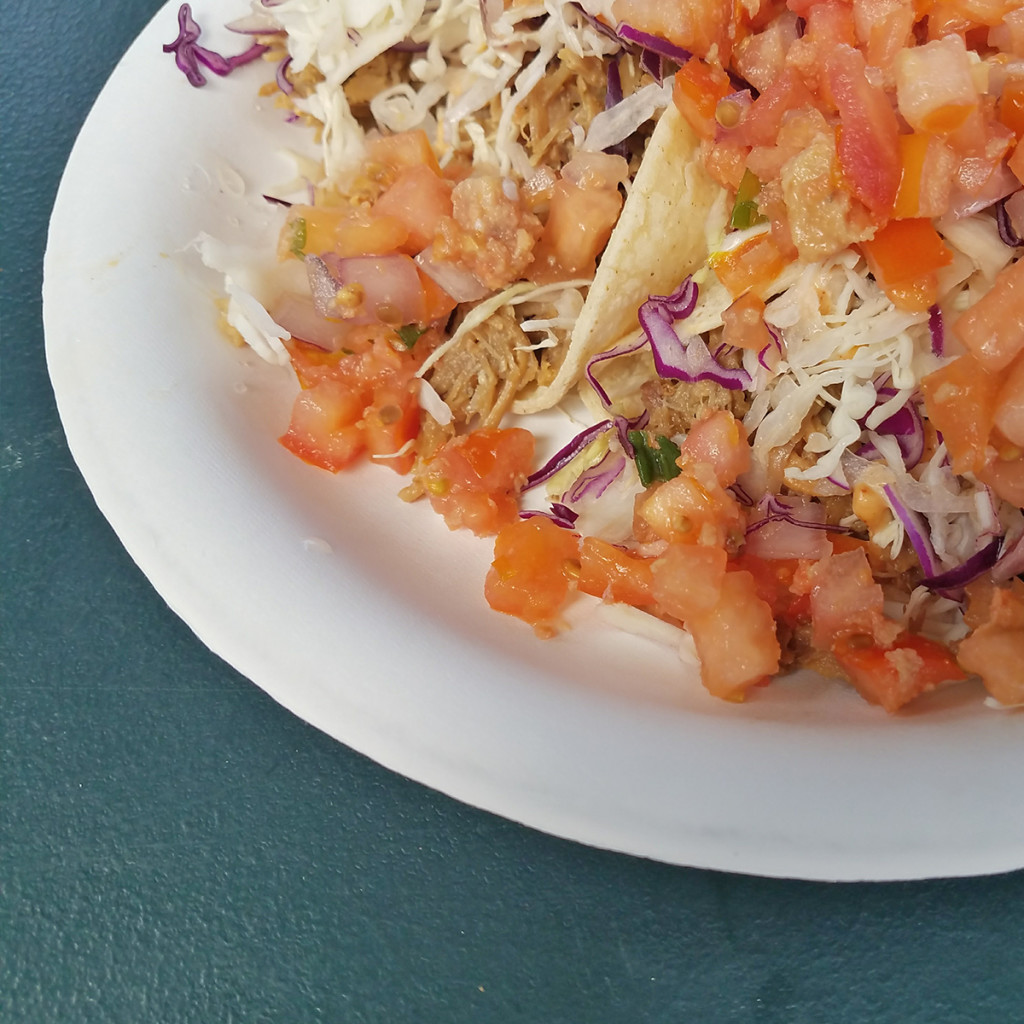 4353 Waialo Rd
Eleele, HI 96705
I know, kinda odd to include here as you wouldn't just come for lunch. But we did have lunch on our Na Pali Coast tour and it was pretty good! A deli style buffet with meats, cheeses, fresh island bread and all the fixins'. I didn't happen to take any photos so you'll just have to trust me 😉
---
Dinner
Paniolo Santa Maria Style BBQ
4-1345 Kuhio Hwy
Kapaa, HI 96746
We stopped in Kapaa after horseback riding to check out First Saturday, which is an outdoor market type event with food trucks, local artists and music. While wandering around we passed a cool looking BBQ joint. After consulting Yelp, we decided to grab some dinner. I liked the laidback vibe of the place. They had a giant chalkboard menu inside where you place your order and then grab a table. Our food was pretty quick to come out and was decent.
I got the Pineapple Burger while the husband got the more traditional BBQ Combo Plate.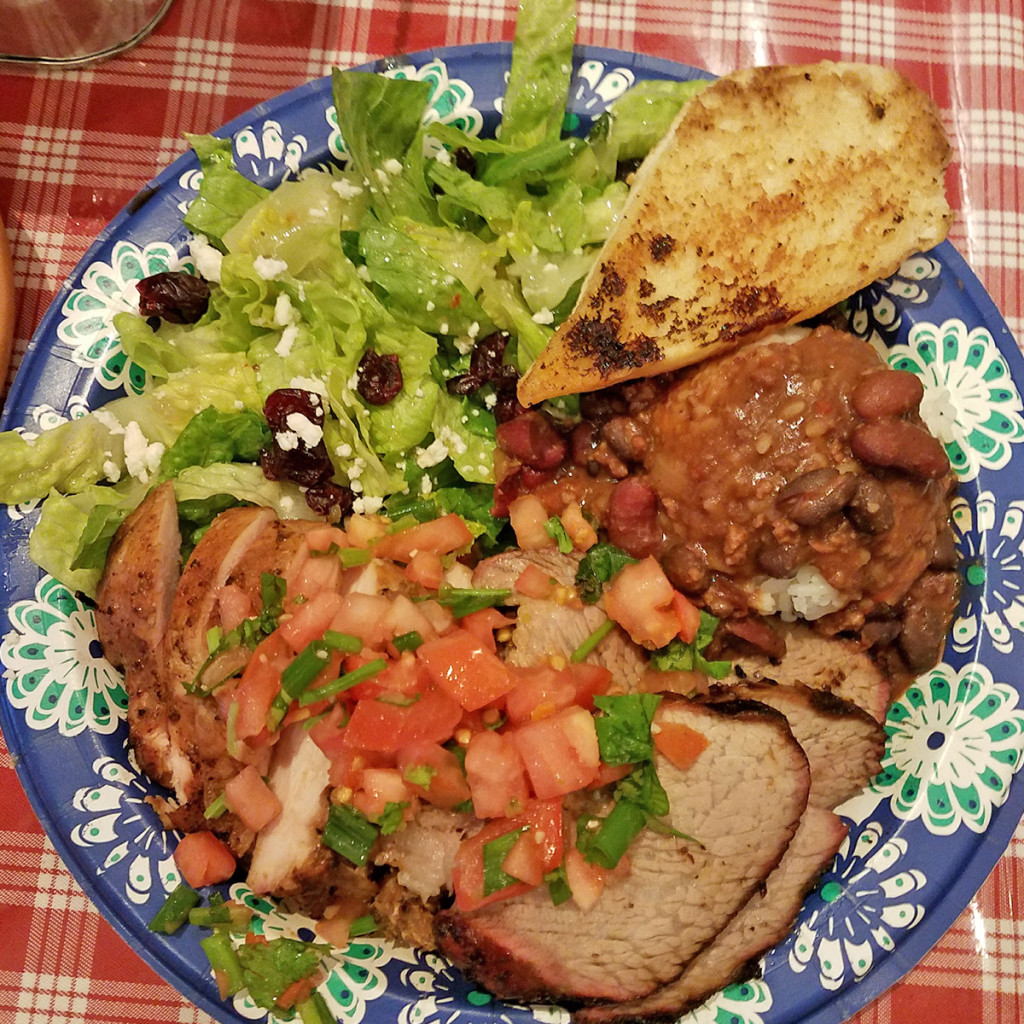 Kauai Pasta Lihue
3-3142 Kuhio Hwy
Lihue, HI 96766
Kauai Pasta is an adorable little Italian place in Lihue. We came here for dinner after our catamaran excursion on the way back to the resort. Our timing was great as the place was just getting going and we were seated and served promptly. We love pasta in our family so I was pretty confident in choosing this place.
I ordered the Pesto Pasta and it was delicious! Everyone else loved what they ordered as well. They have a great Keiki (children) menu as well. That make's Mama happy!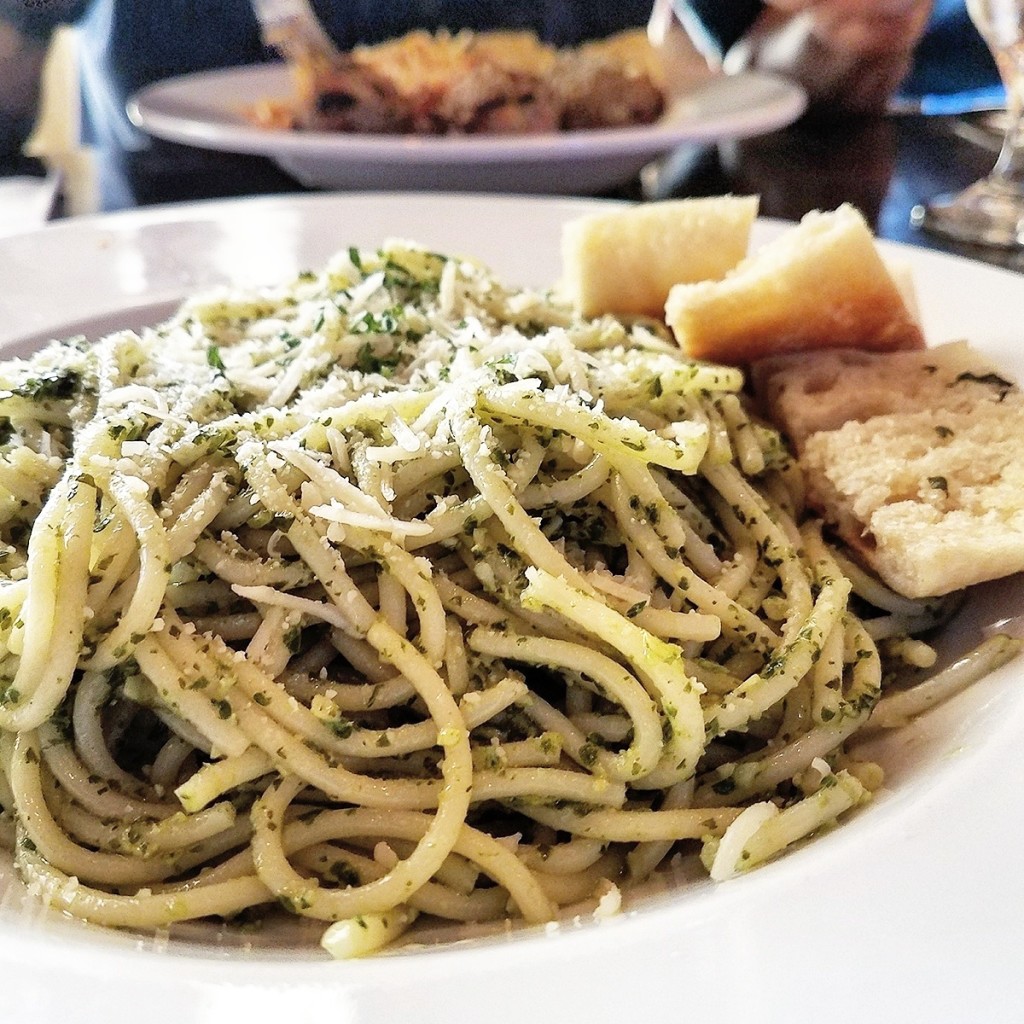 ---
Treats
The Cafe at Anaina Hou
5-2723 Kuhio Highway
Kilauea, HI 96754
I grabbed a tasty coffee at this little cafe located by the mini golf at Anaina Hou Community Park. We needed a little pick-me-up before our 18 holes and this did the trick. I ended up getting a Honey Buzz Latte which was delish! A not-too-sweet latte with a bit of local honey. Perfect.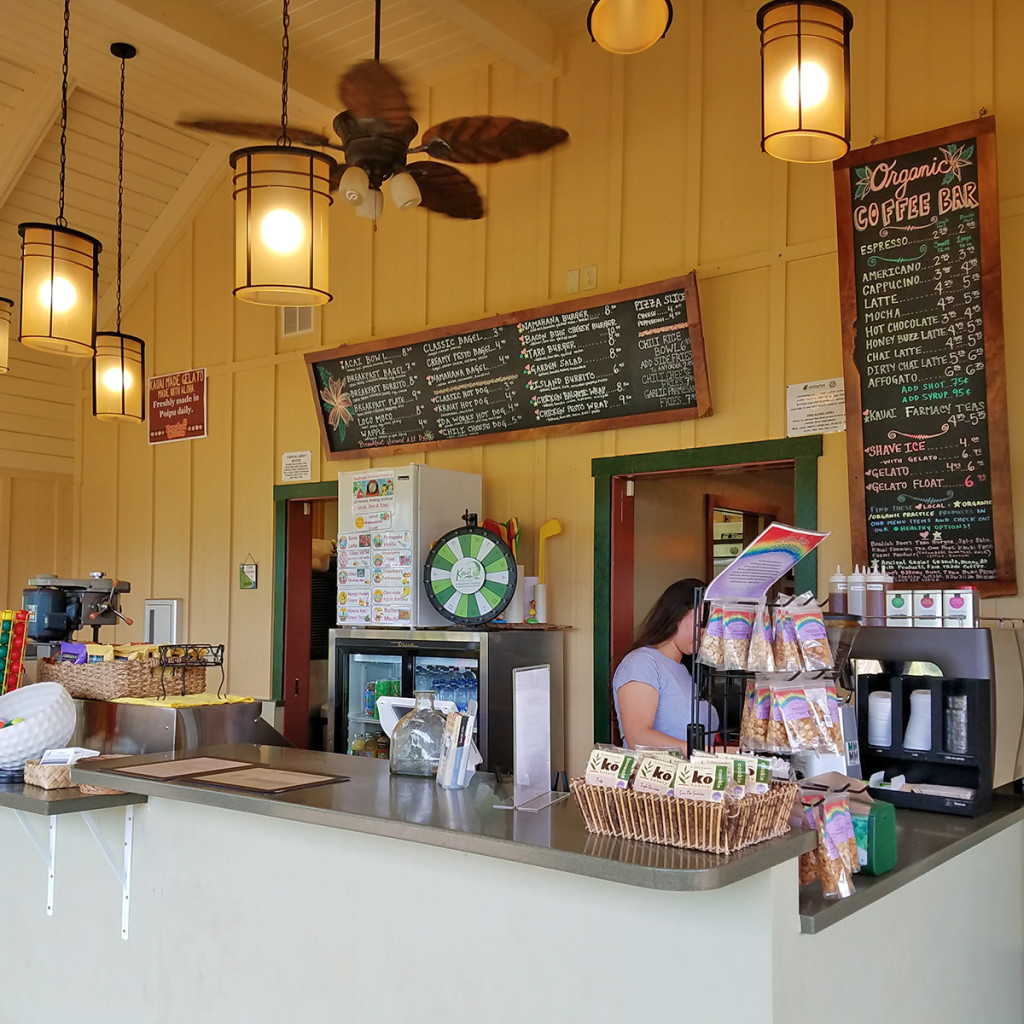 Lapperts
5-4280 A Kuhio Hwy
Princeville, HI 96722
After mini golf we stopped at Princeville Shopping Center to seek out a cold treat. We stumbled upon Lappert's. It was a bit crowded but the staff proved to be efficient ice cream scoopers. I enjoyed mint chocolate chip in a waffle cone, yum!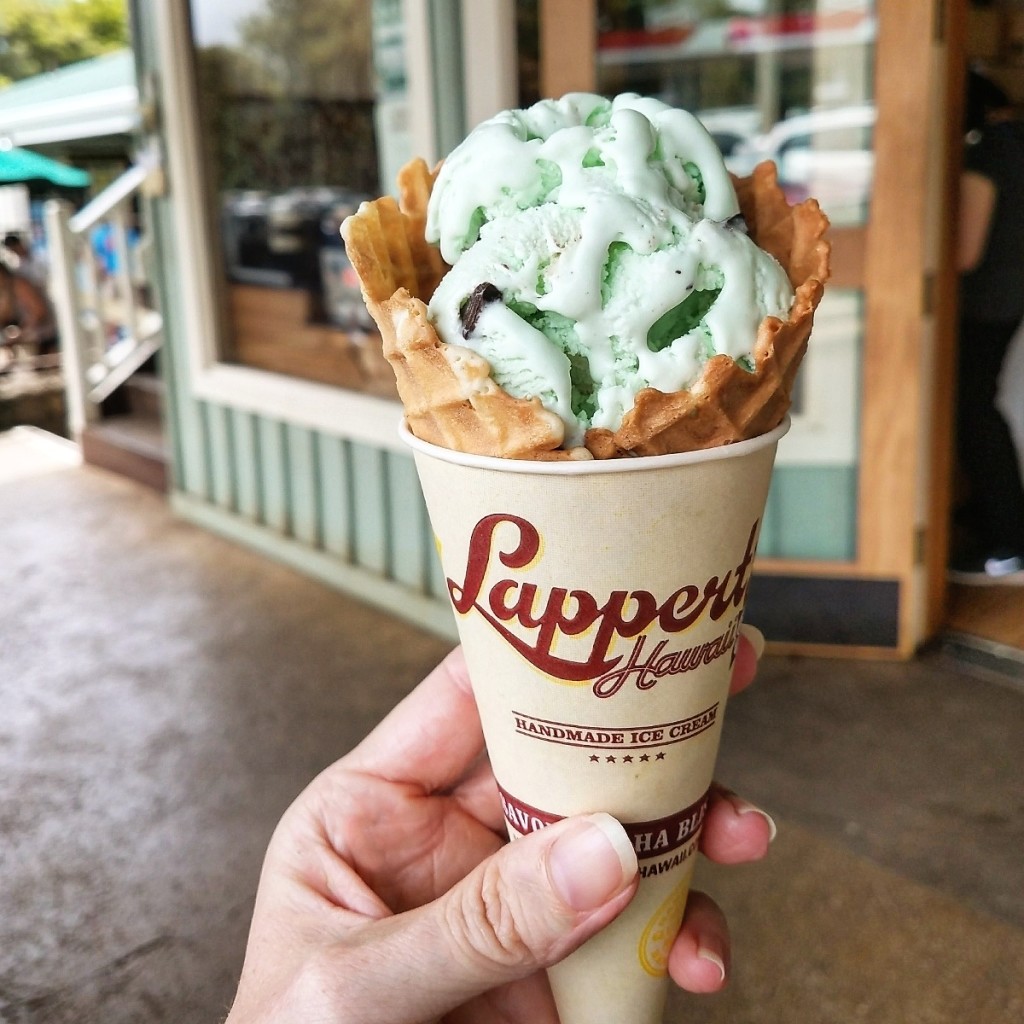 Ono Ono Shave Ice
4-1292 Kuhio Hwy
Kapaa, HI 96746
Of course we needed to try at least two shave ice shops. Ono Ono's was smack in the middle of Kapaa's shopping area. It served up the basics for a good price. Check out the size of this thing!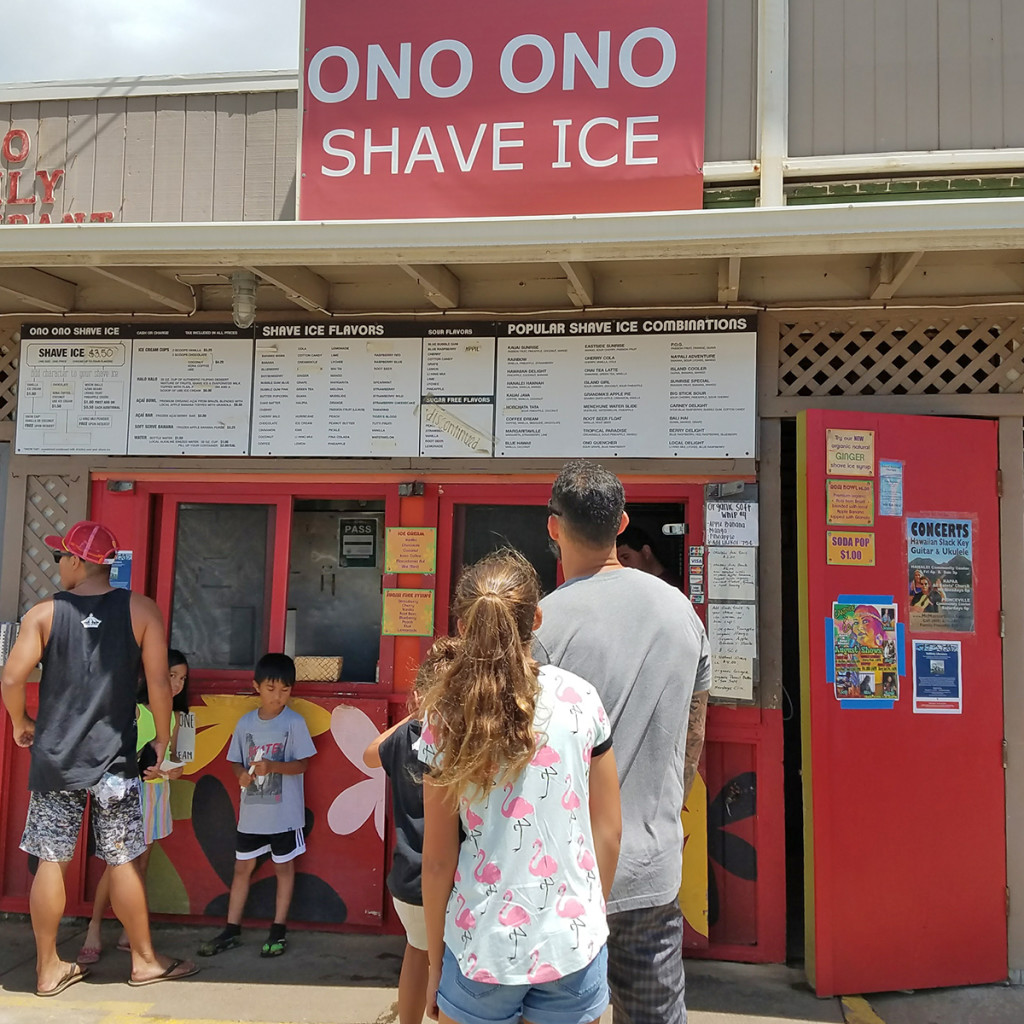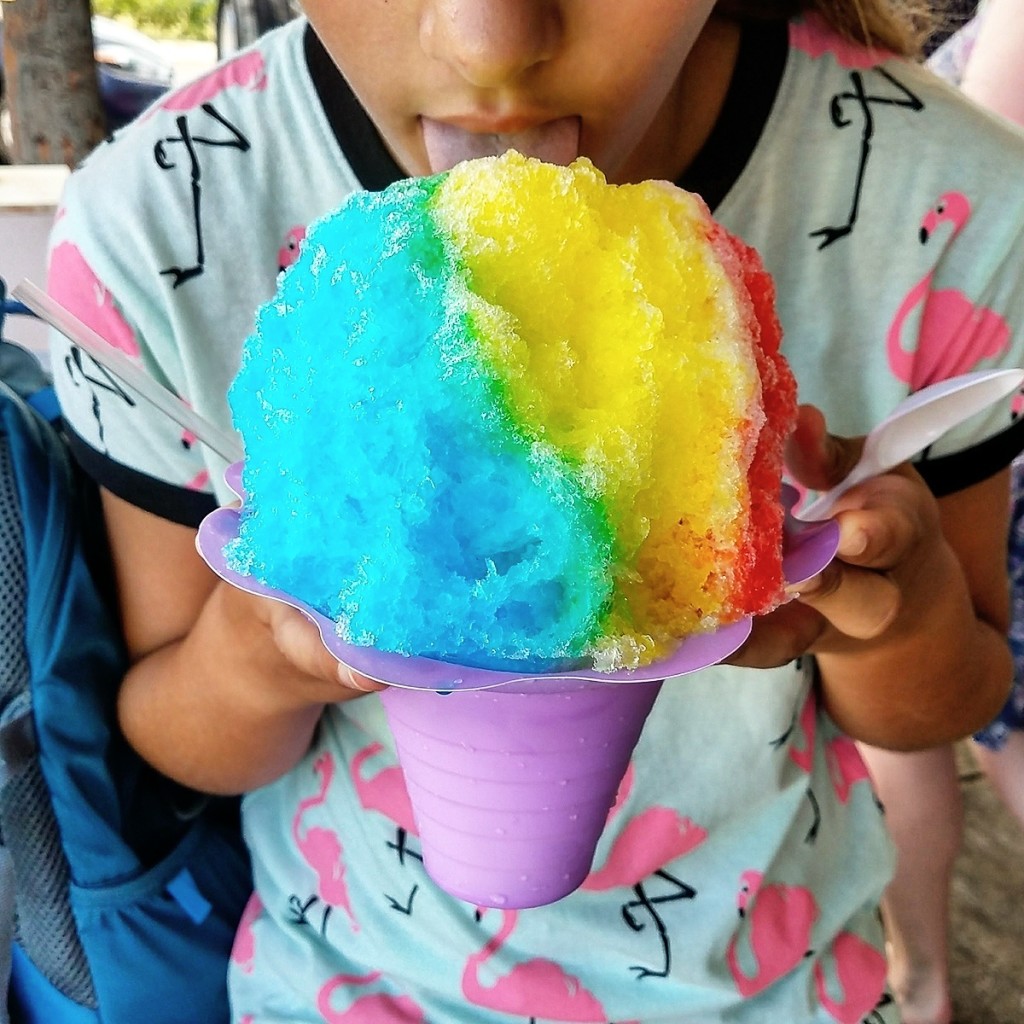 Jojo's Shave Ice
9734 Kaumualii Hwy
Waimea, HI 96796
The other shave ice place we checked out was Jojo's. It had a slightly different take on shave ice from Ono Ono's as it offered a menu of flavor combos. You could of course create your own mix but I went for a "South Shore" which has pineapple and coconut syrups on macadamia nut ice cream topped with haupia cream. All of their syrups and creams are homemade, you can taste the difference. So good!!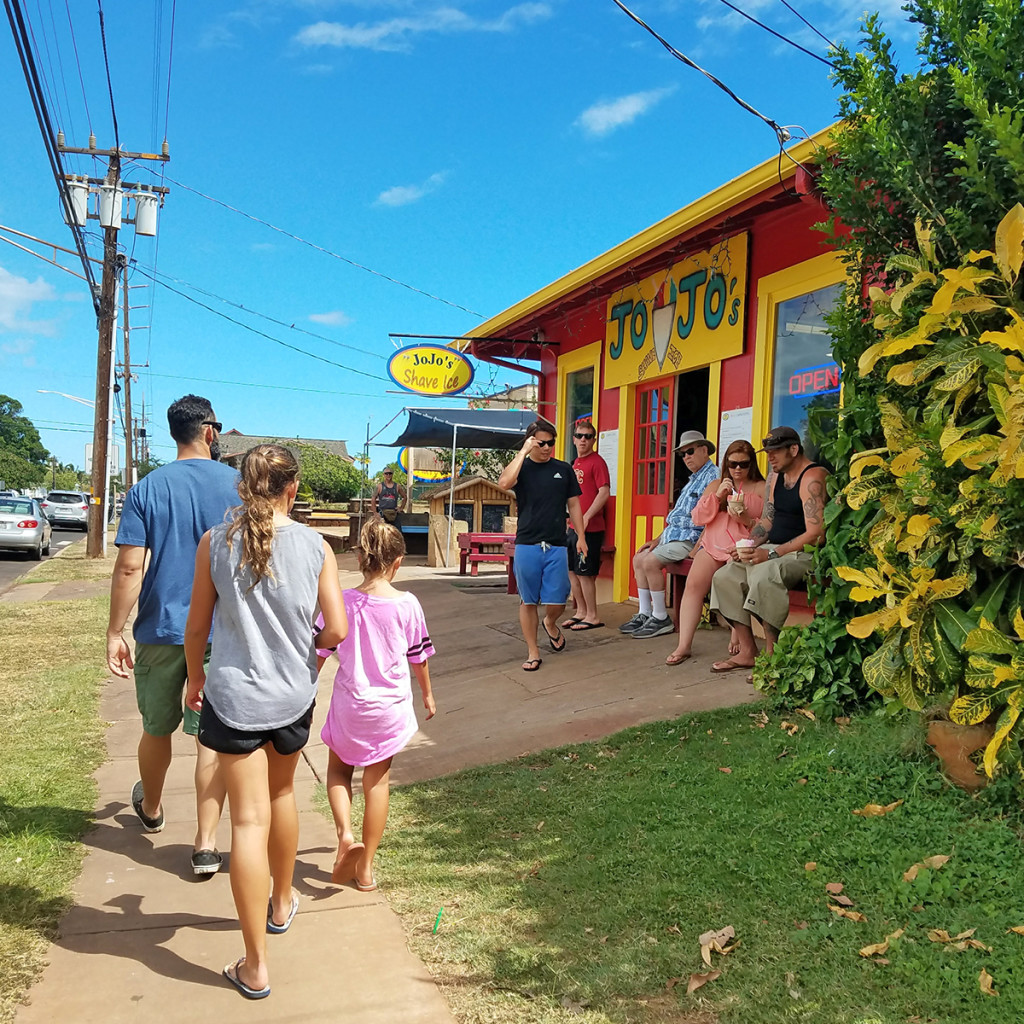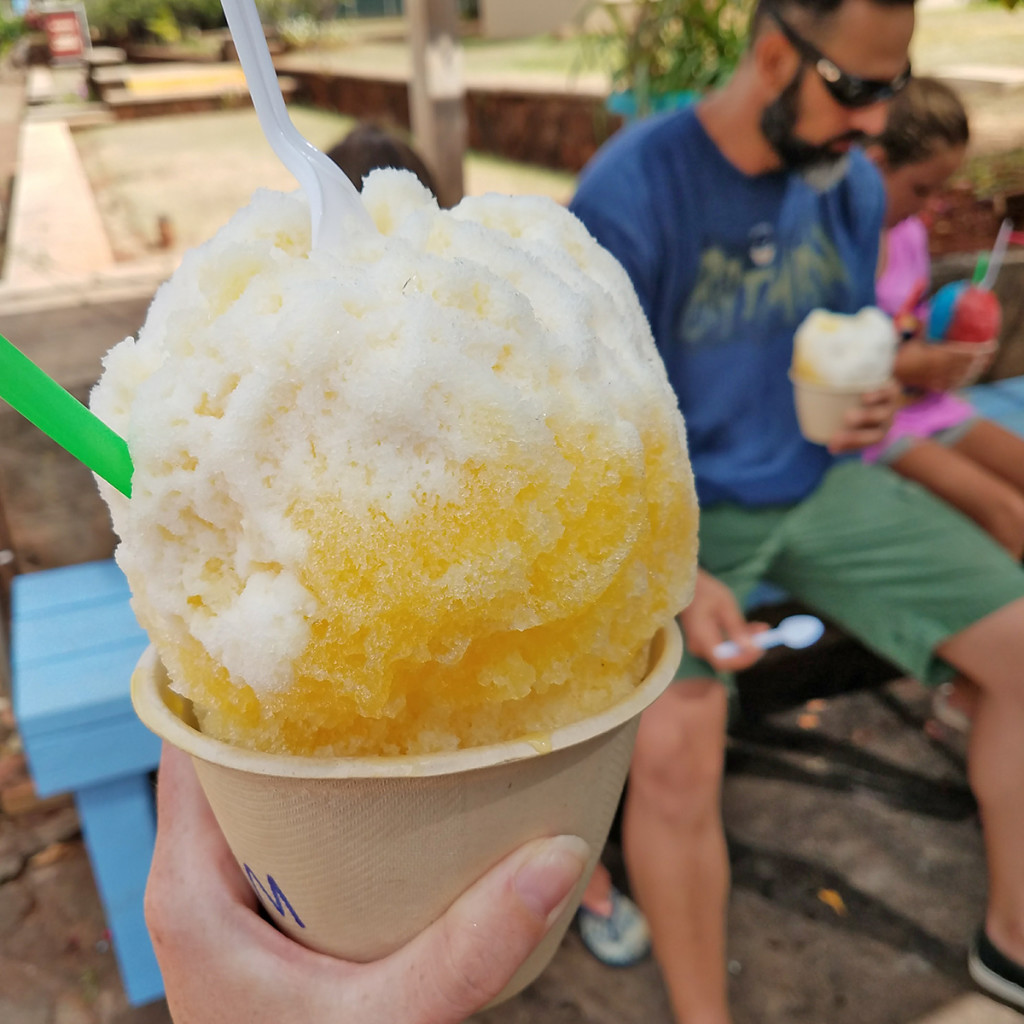 So that sums up breakfast, lunch and dinner from our weekend trip to Kauai. Would you try any of these picks? I can't wait to go back and try more. Aloha!
You like what you read? Pin me!

Want more Kauai? Check out below.