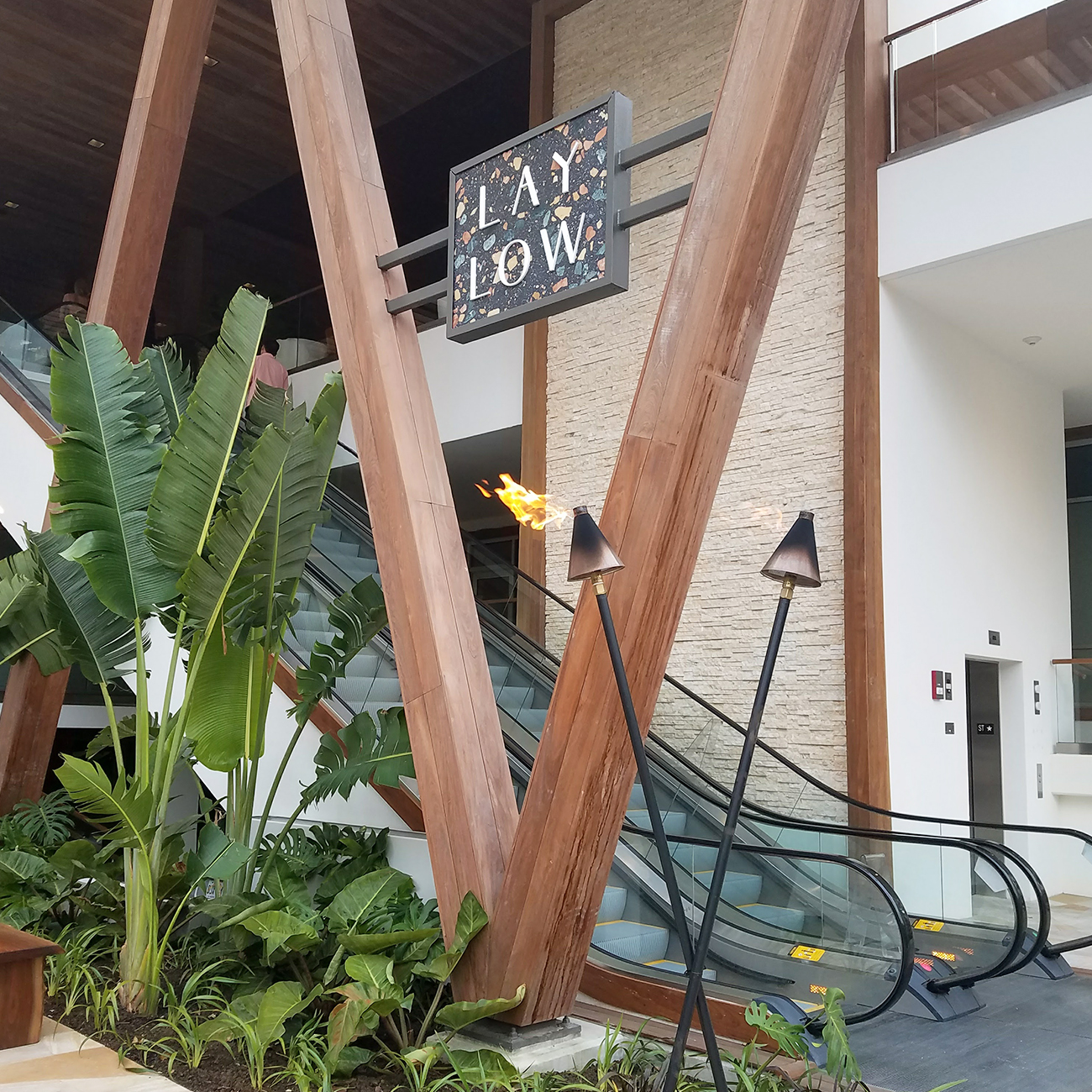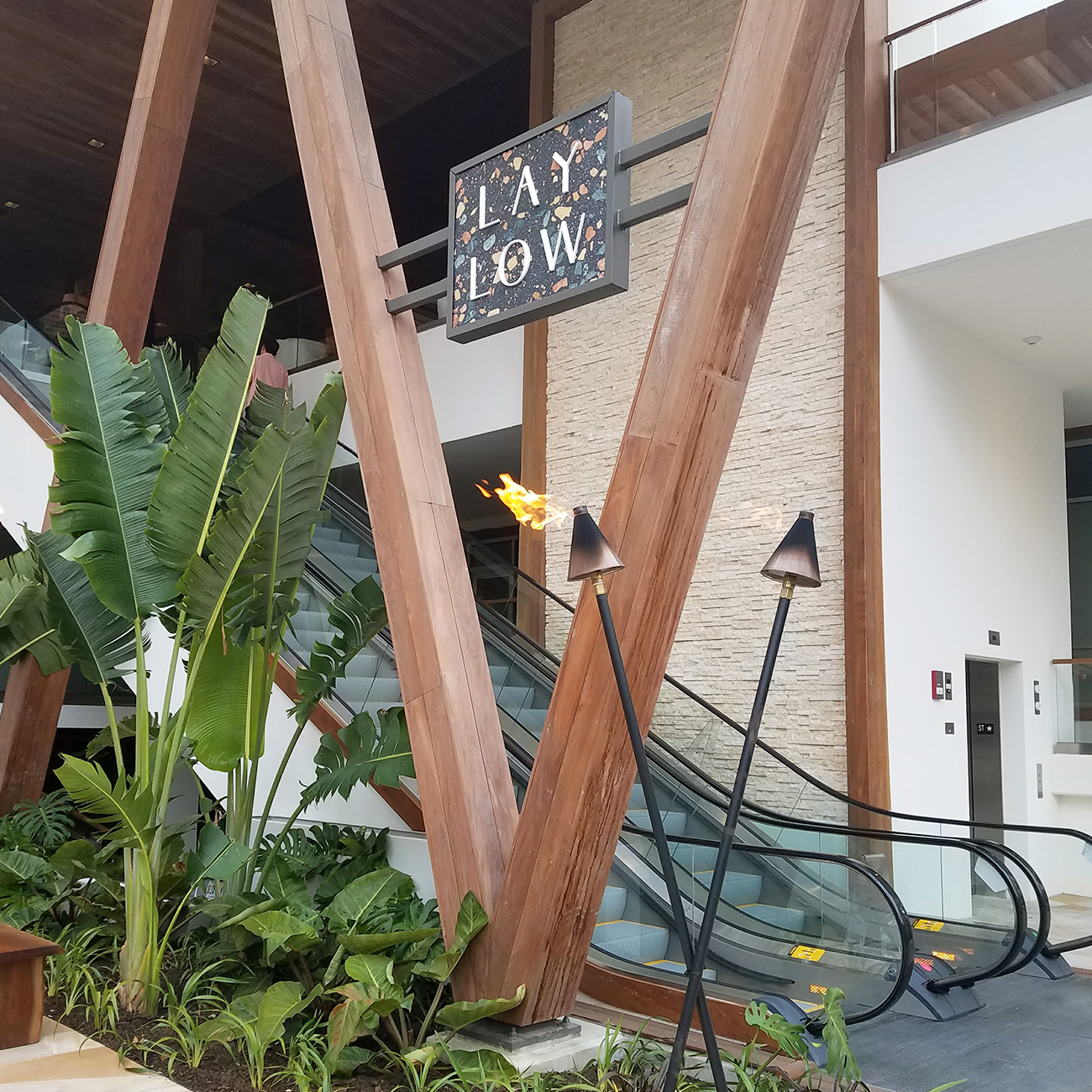 I had an event in Waikiki this past Saturday and decided to take advantage of the night out and book a hotel. I had come across pictures of the newly renovated Laylow on Instagram and instantly became obsessed with staying there. A mix of post-modern and beach-chic, the Laylow seemed to encompass my ideal chill spot. So get on with it, you say? Show us this magical place! Ok, let's start with the lobby.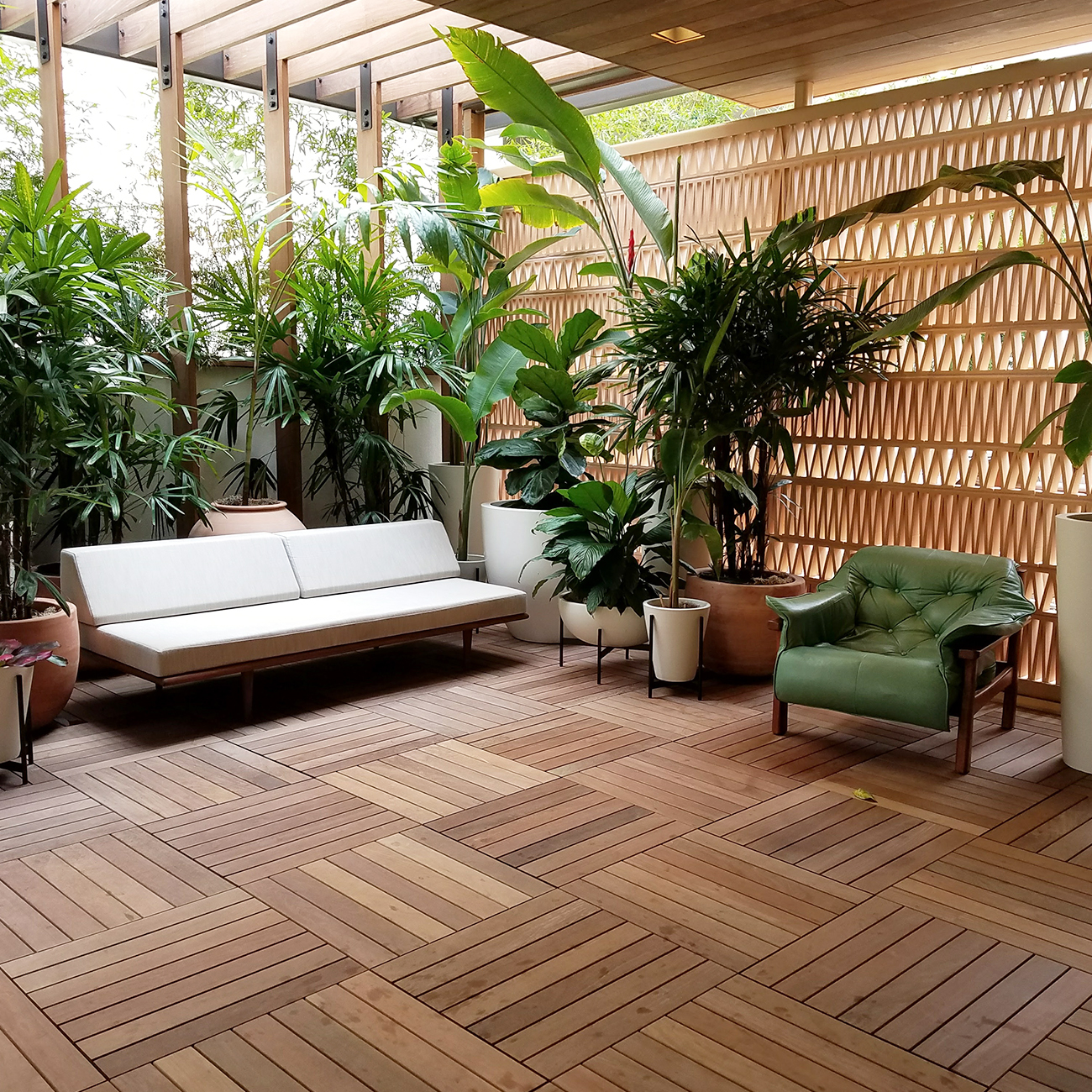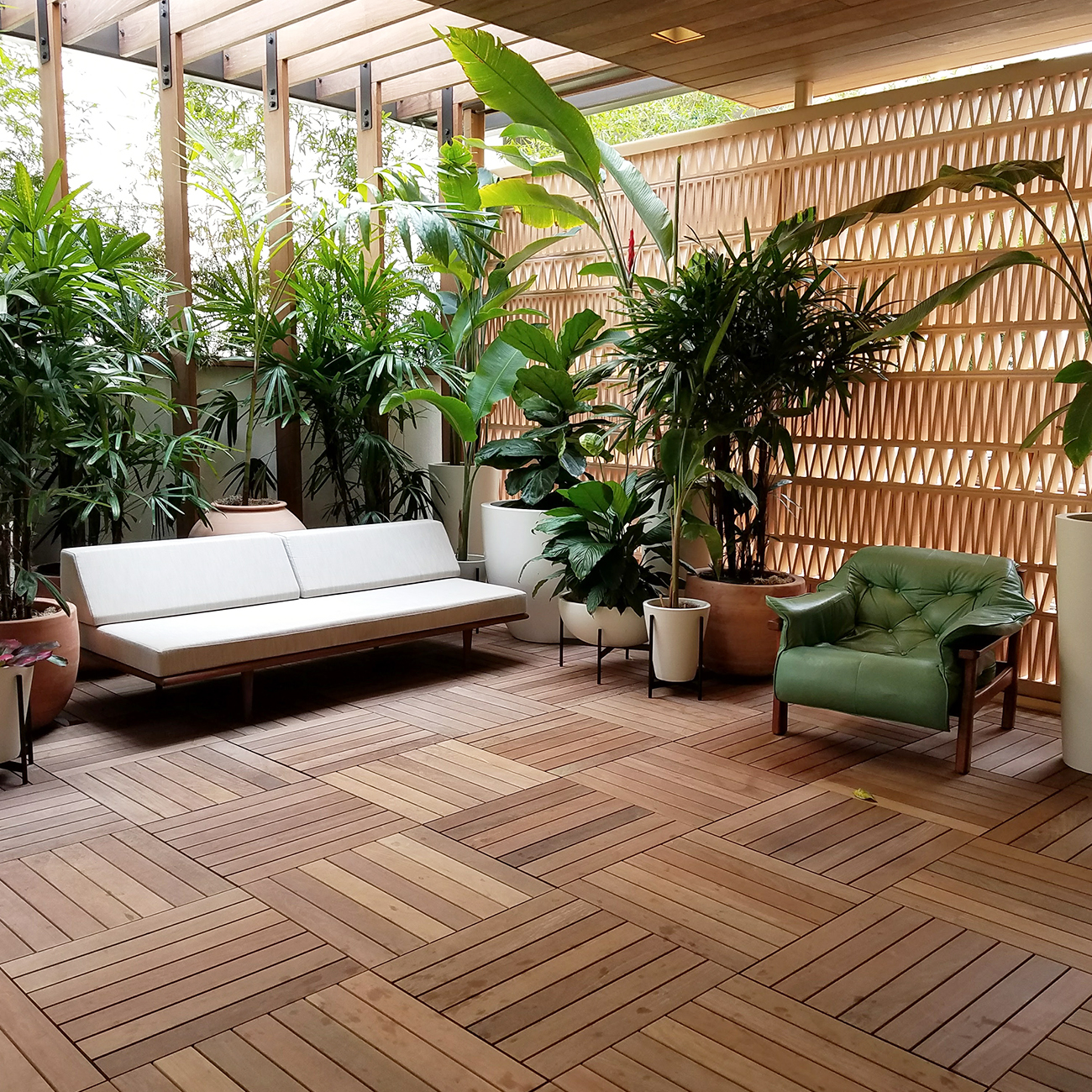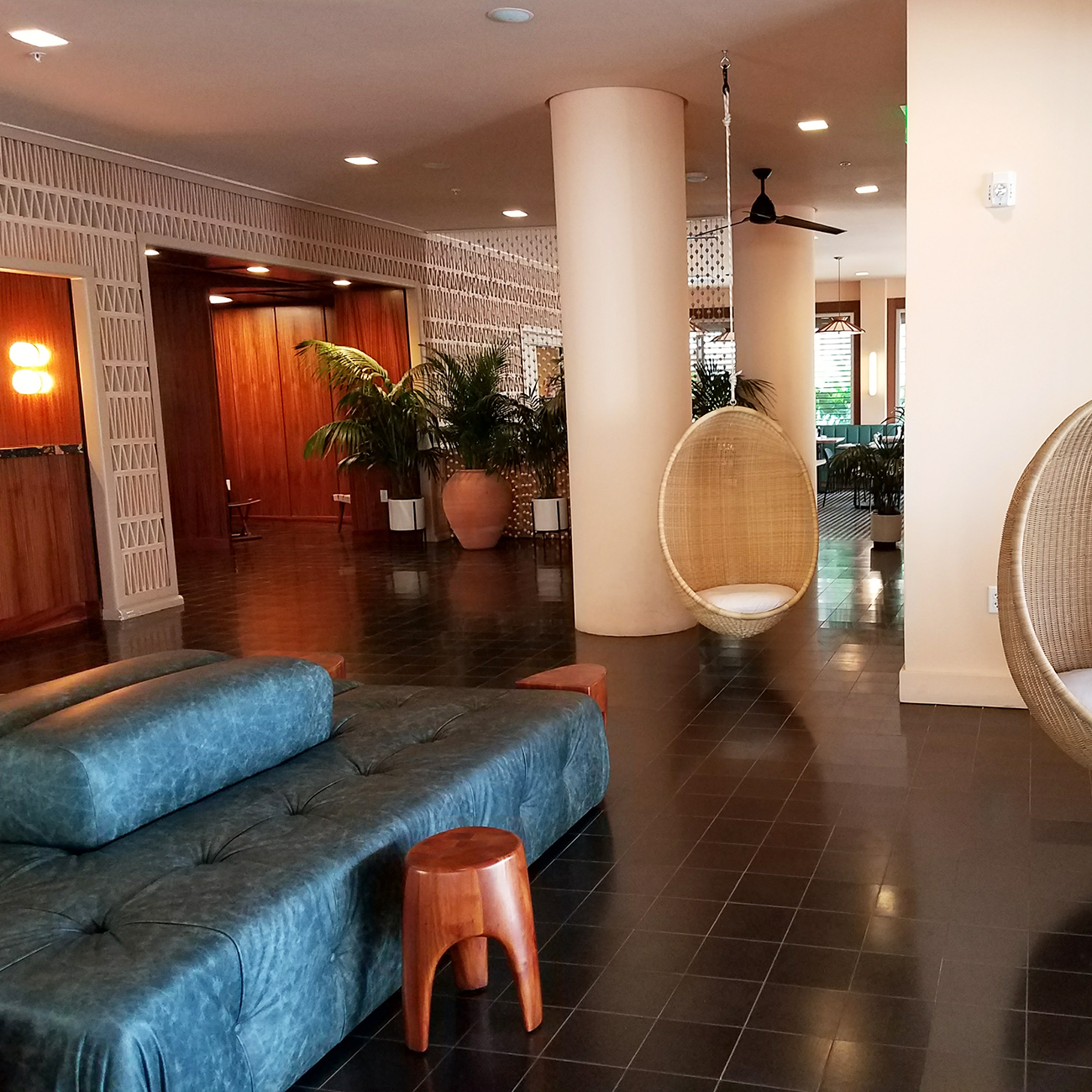 The lobby is adorable. With space to check-in, lounge about and even sway gently in one of two hanging chairs, it doesn't feel very lobby-like. Our check-in was super easy and they were even able to upgrade our room to a higher level. We were offered a snack of some sweet pineapple as we waited, which I thought was a nice touch.
We were given a room on the 12th floor and I was super stoked to realize that it was a corner room! That typically means more space and potentially windows on two sides. We entered the room and honestly could not believe how spacious it was. There was space for a king bed, large lounging couch, super cute accent chair and even a table with space to seat maybe 3 people. The room also had two walkout balconies with chairs! The bathroom happened to be handicap accessible, so it was spacious as well.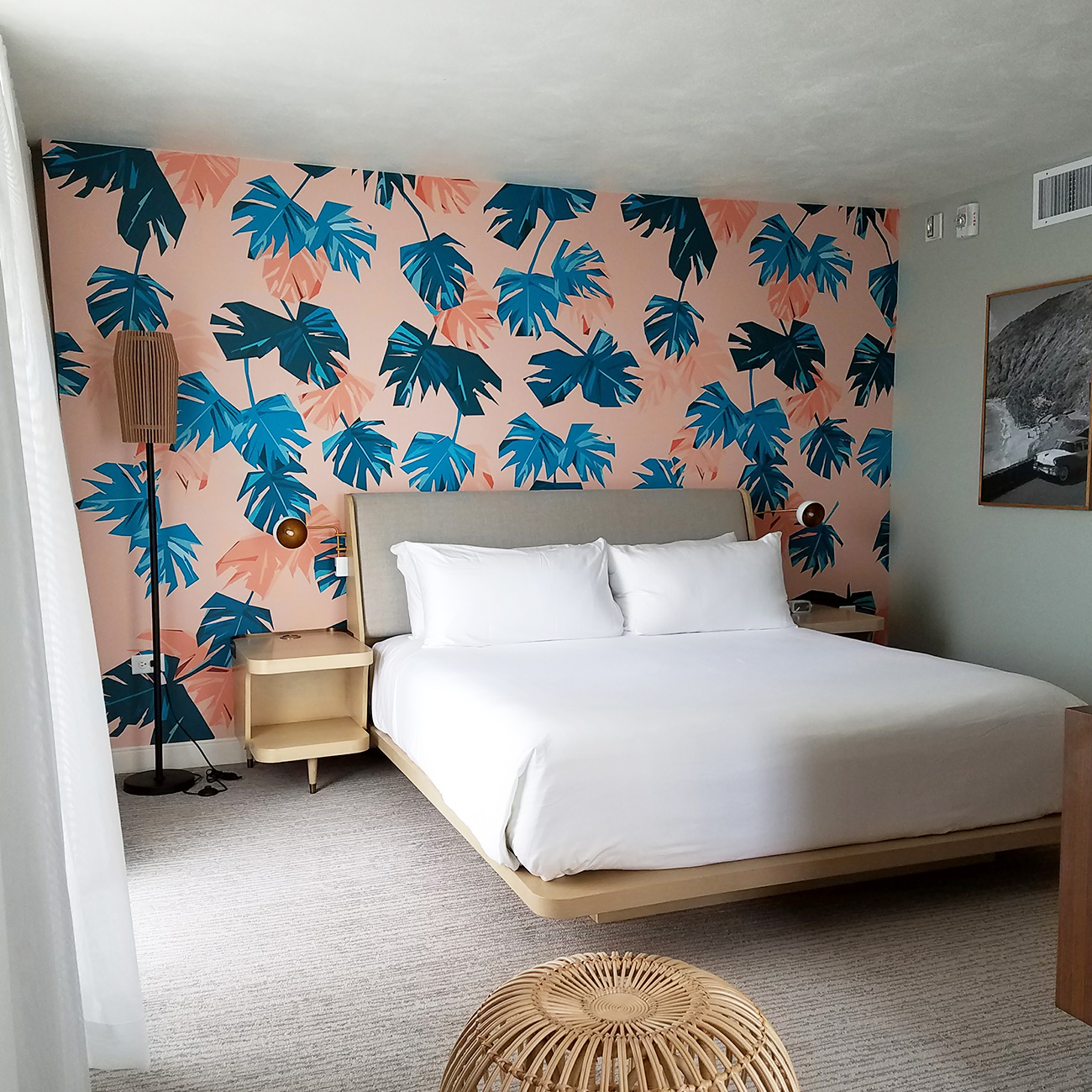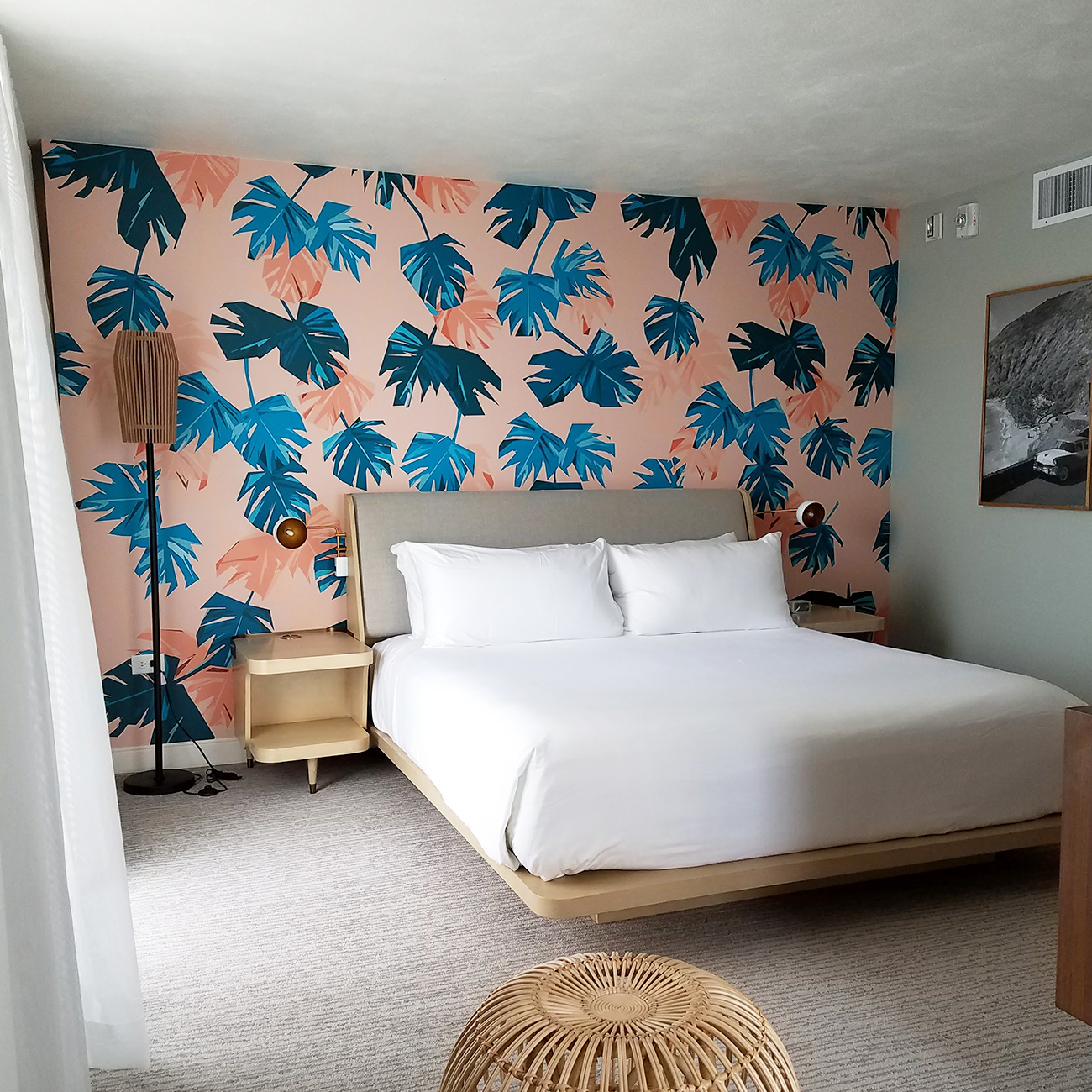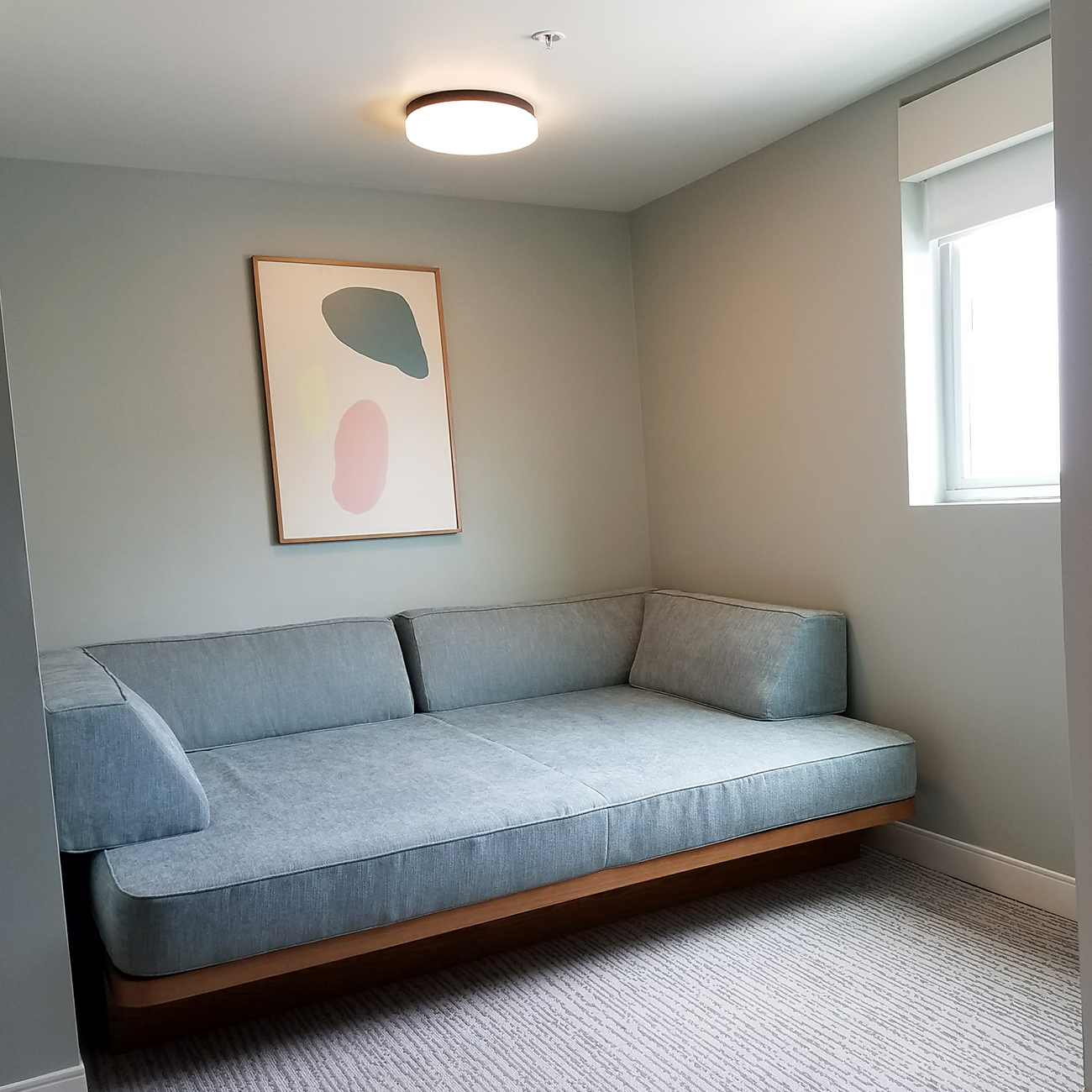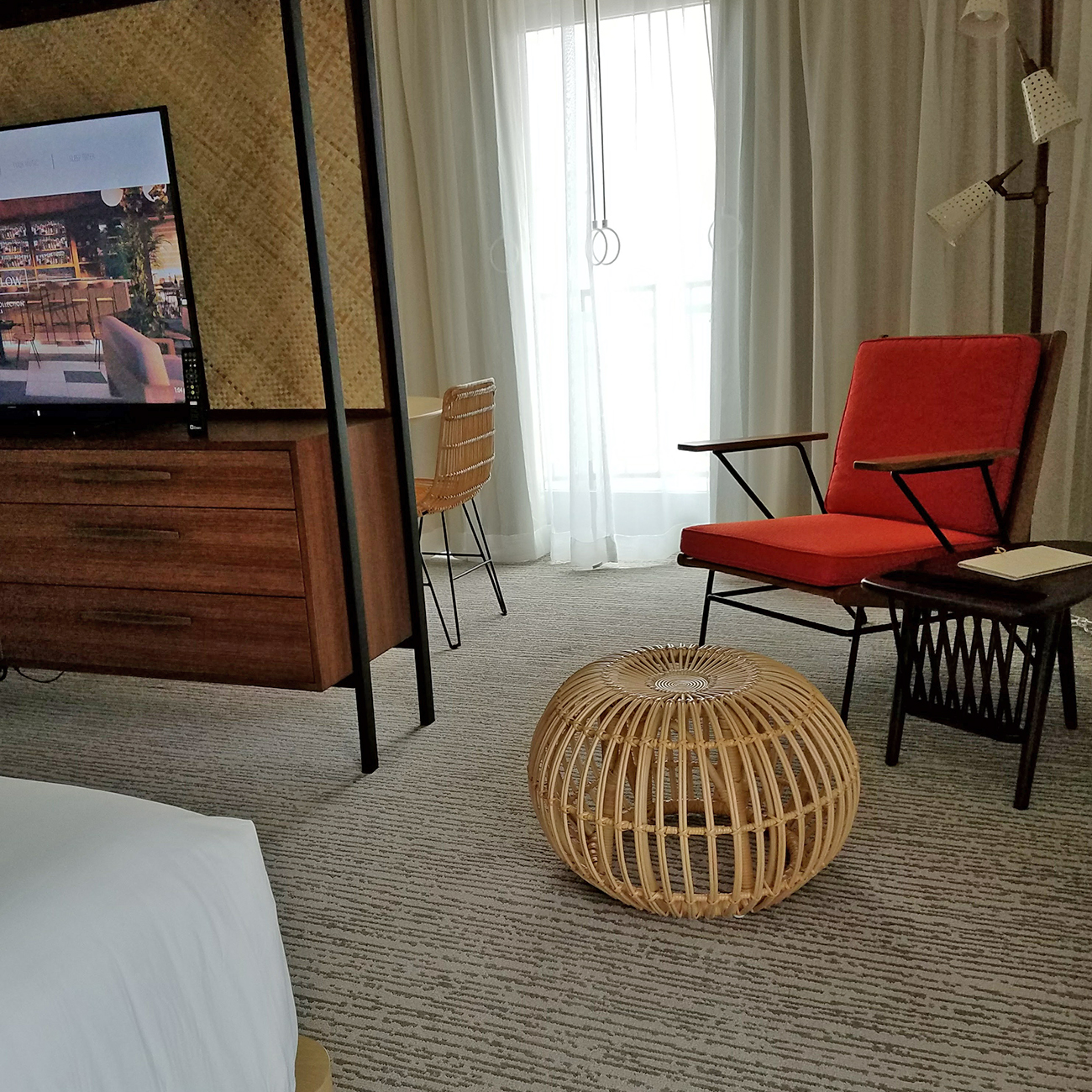 Also in the room was a lovely basket full of goodies provided by the Laylow as a welcome gift! What a special touch. It included Laylow branded slippers (flip flops), Waialua soda bottles, taro chip snacks and some other local goodies. I love stuff like this and it's nice when a business realizes how the little things can go a long way in making a great impression of your brand.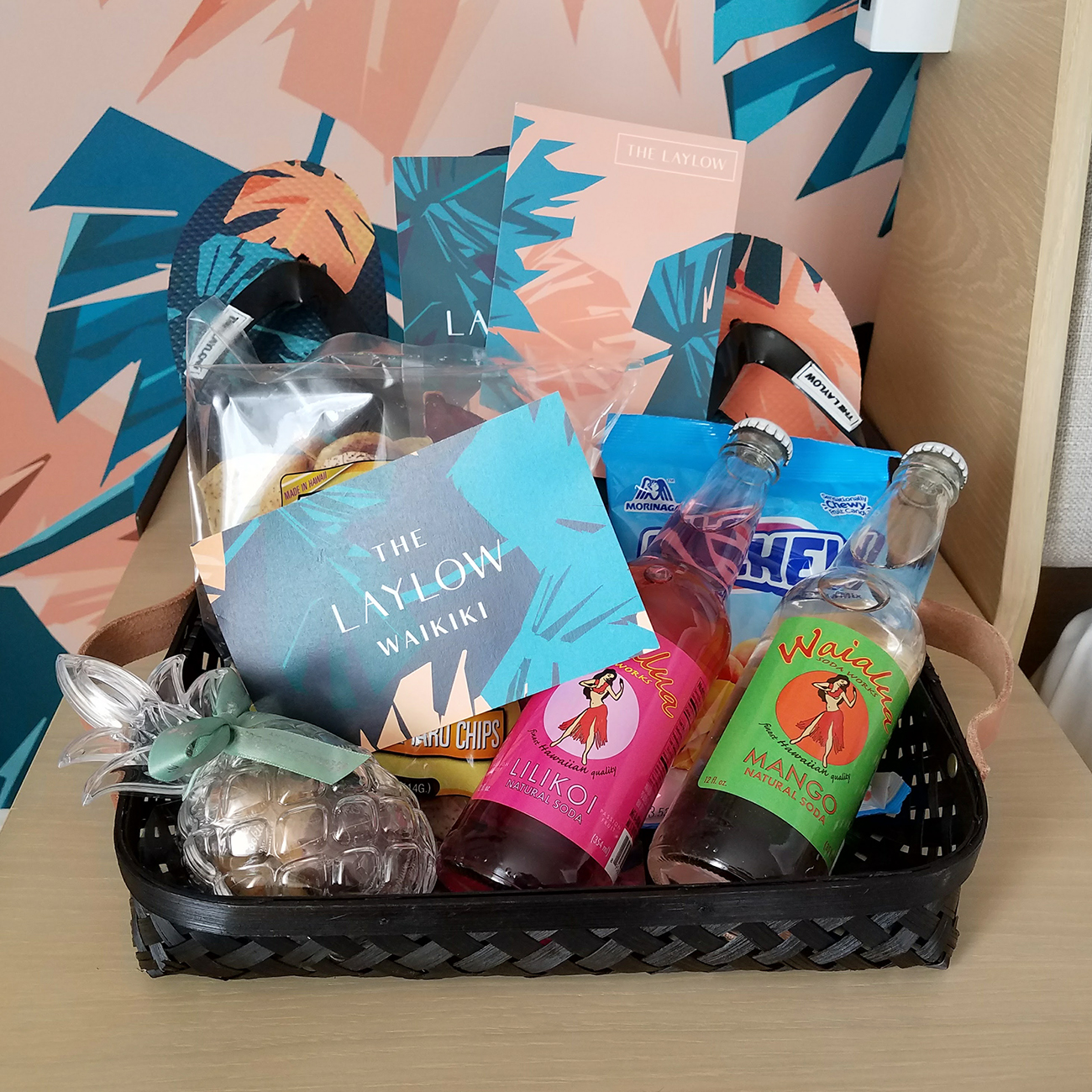 Although I could lounge around in this incredibly chic and tropical boudoir all day, I was itching to explore the property. We decided to head back downstairs to the main floor. Adjacent to the lobby is the hotel restaurant and bar, The Hideout. It follows the same beachy, jungalow vibe as the rest of the property and I just love how it's styled. There are many different areas to hang out. Chairs and cushioned benches, cafe tables and even two large fire pits.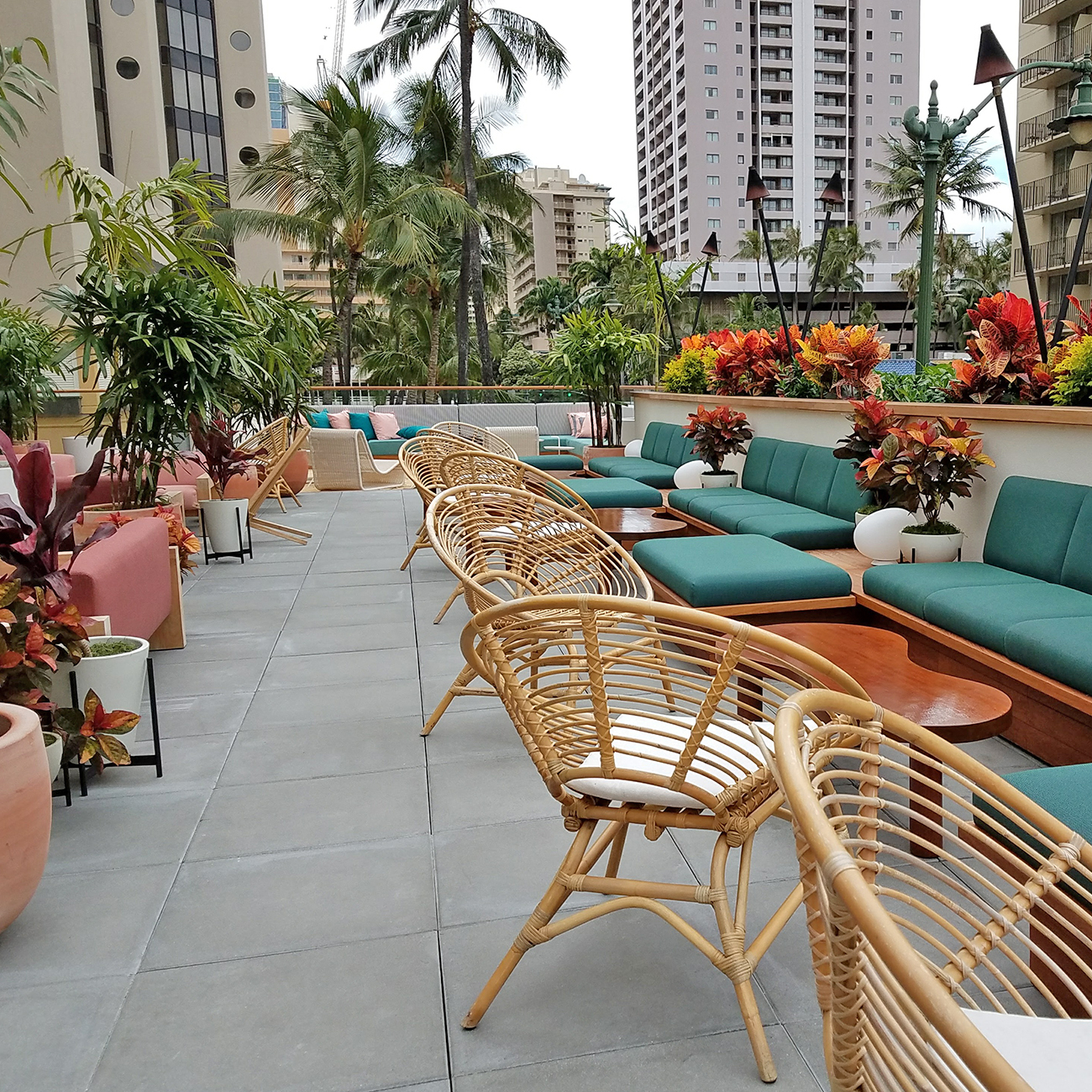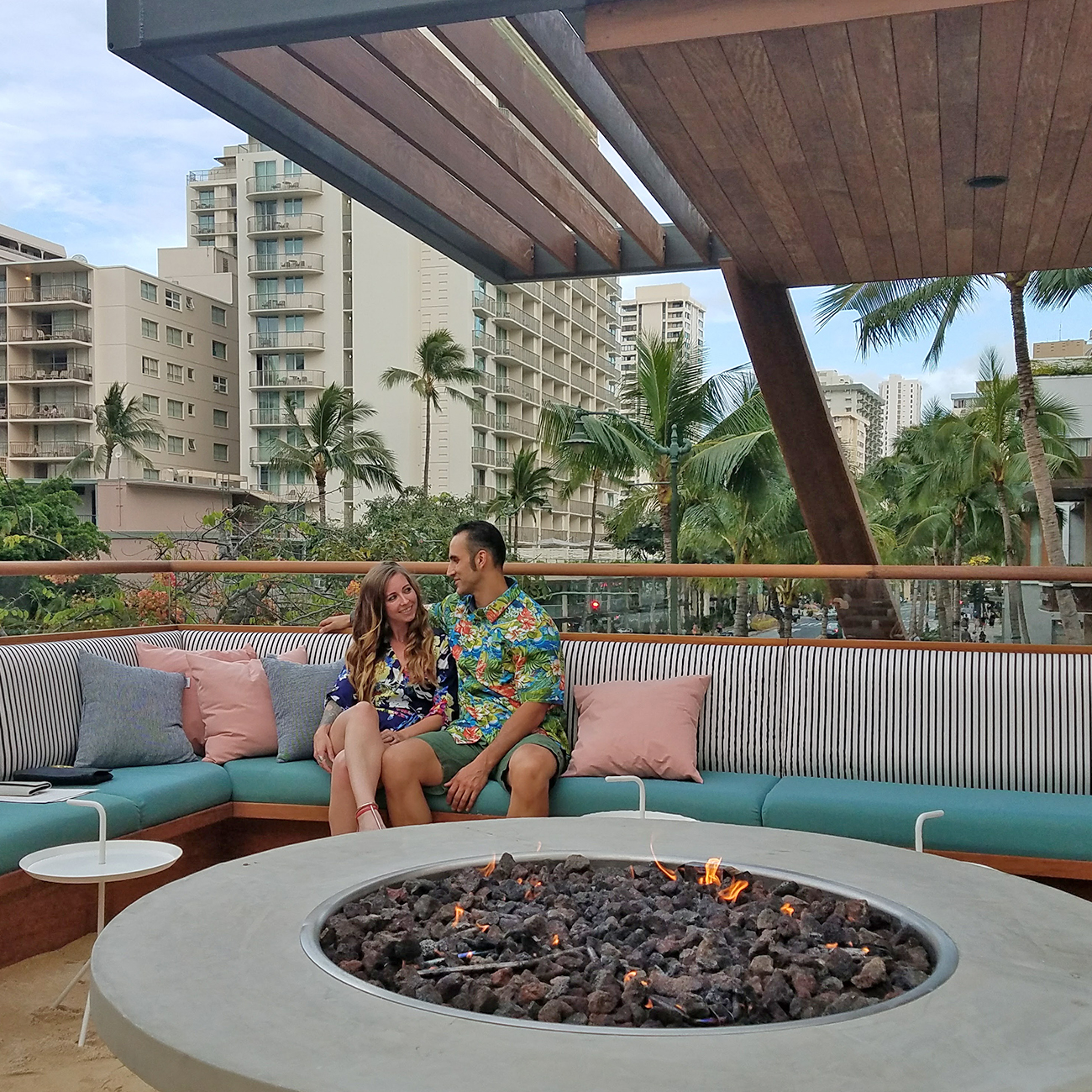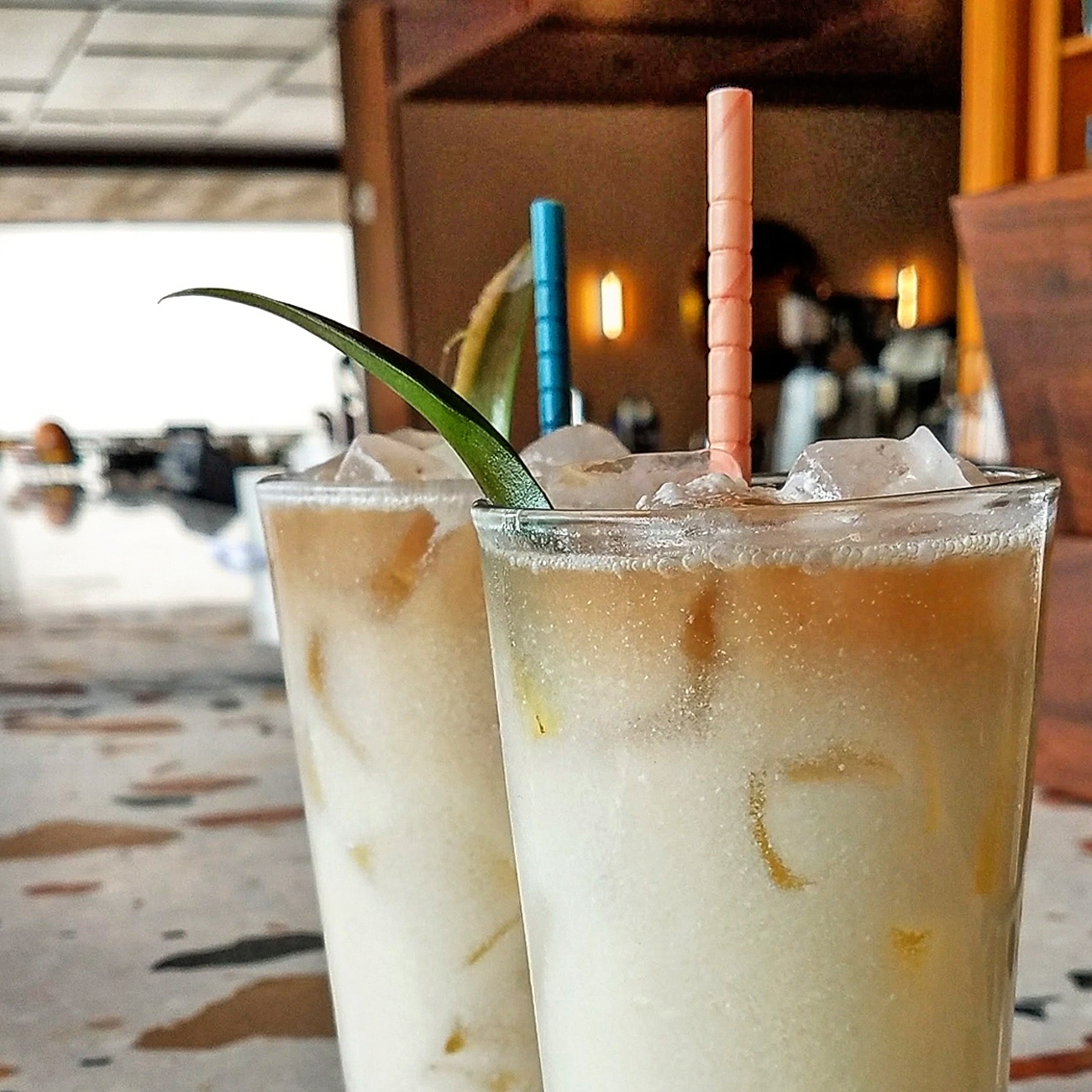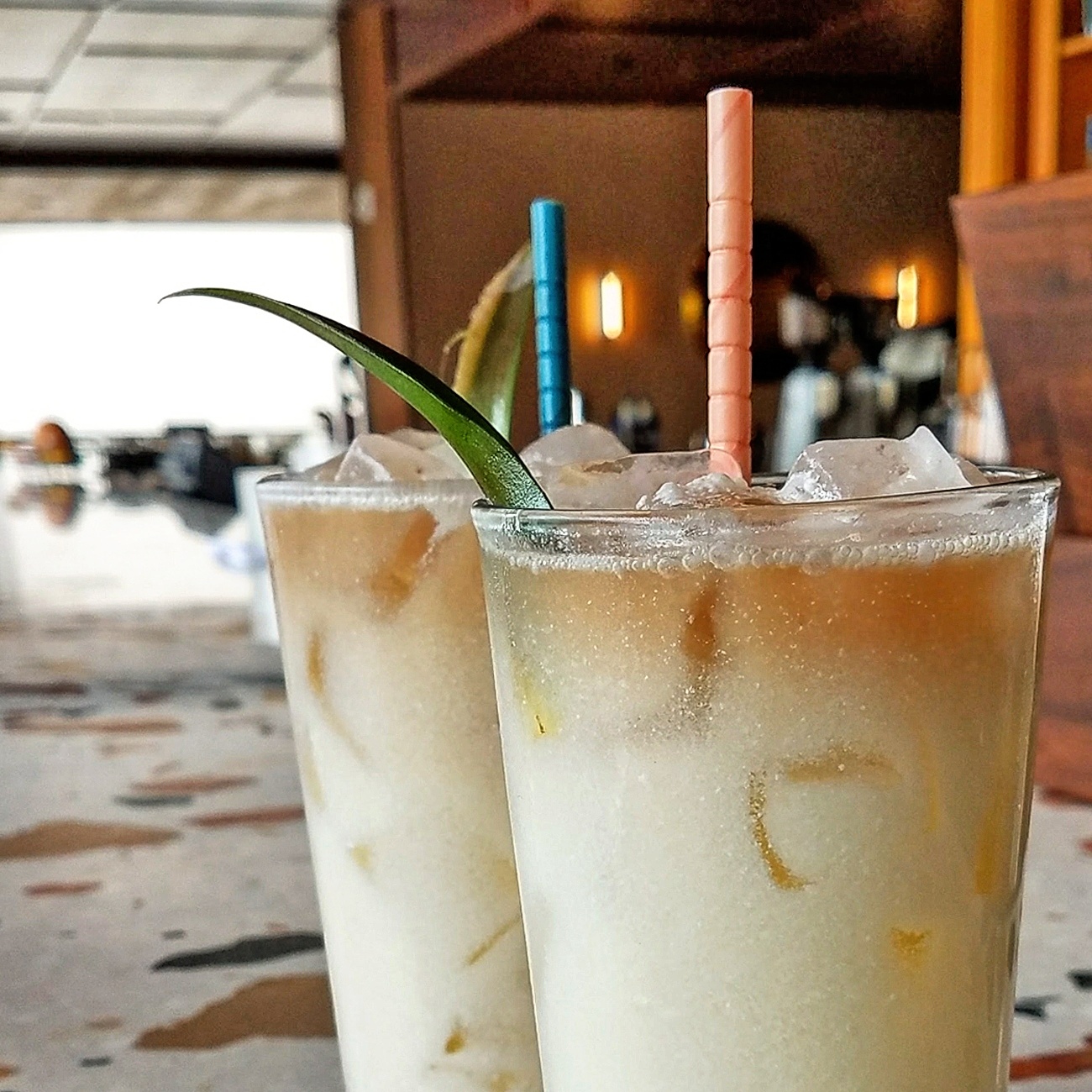 We decided to partake in an adult bevy at the bar and asked the bartender to whip up a tropical drink. She surprised us with a couple of pina colada type cocktails which were delish. We hung out a bit and then headed up to the room so I could get ready for a work event I had to attend.
The next morning we decided to continue our exploration of the property. One area we hadn't experienced yet was the pool. I was up bright and early to take advantage of the quieter morning hours, hoping that most other guests were sleeping-in so I could snag a lounger.
The pool, although a bit on the smaller side, has a very modern, posh feel to it. Cedar deck with wide double loungers, sitting chairs and even a couple of cabanas makes for an amazing space! There are towels available that have the same branded palm print seen throughout the hotel as well as a station that has water, some fresh fruit and even some suntan lotion, all complimentary.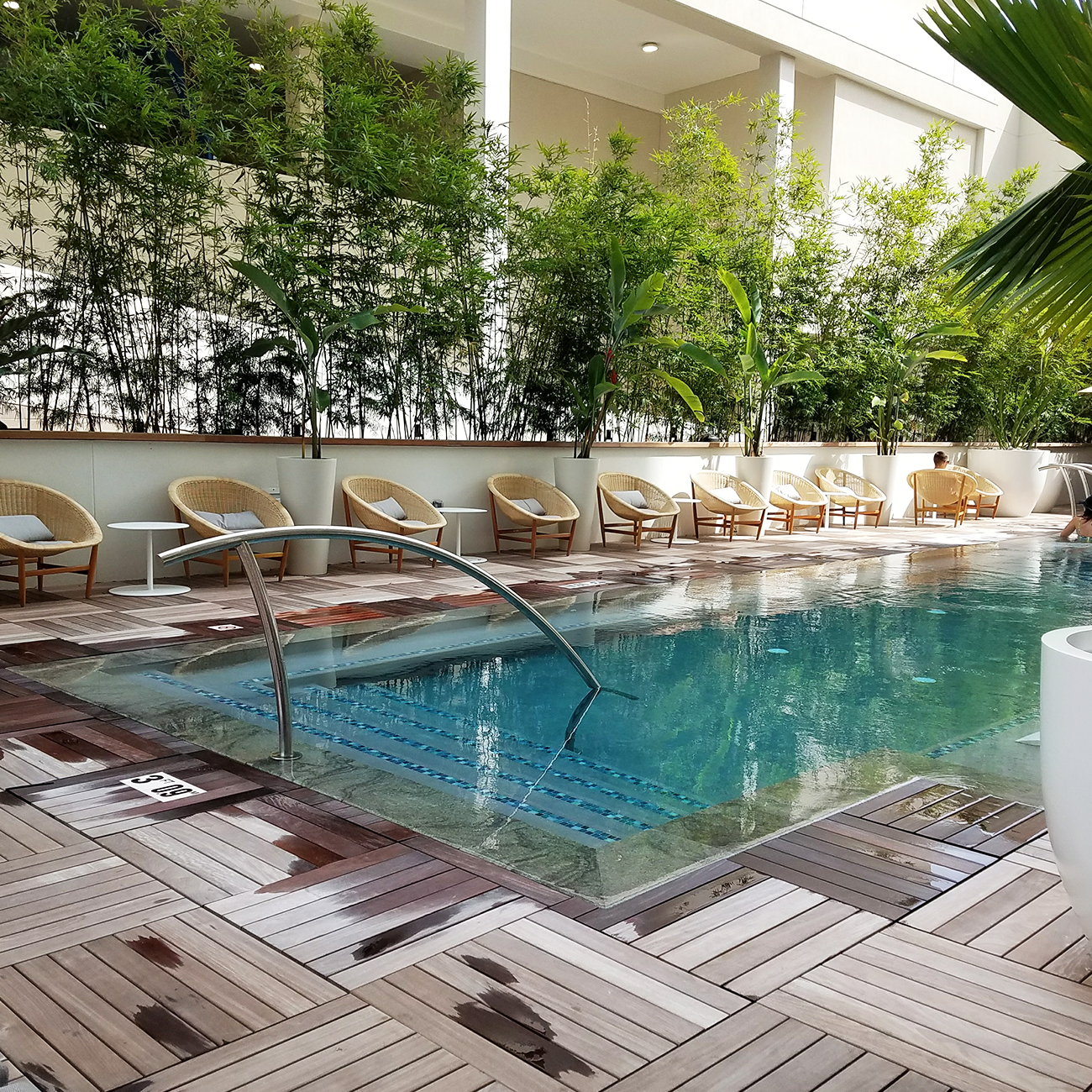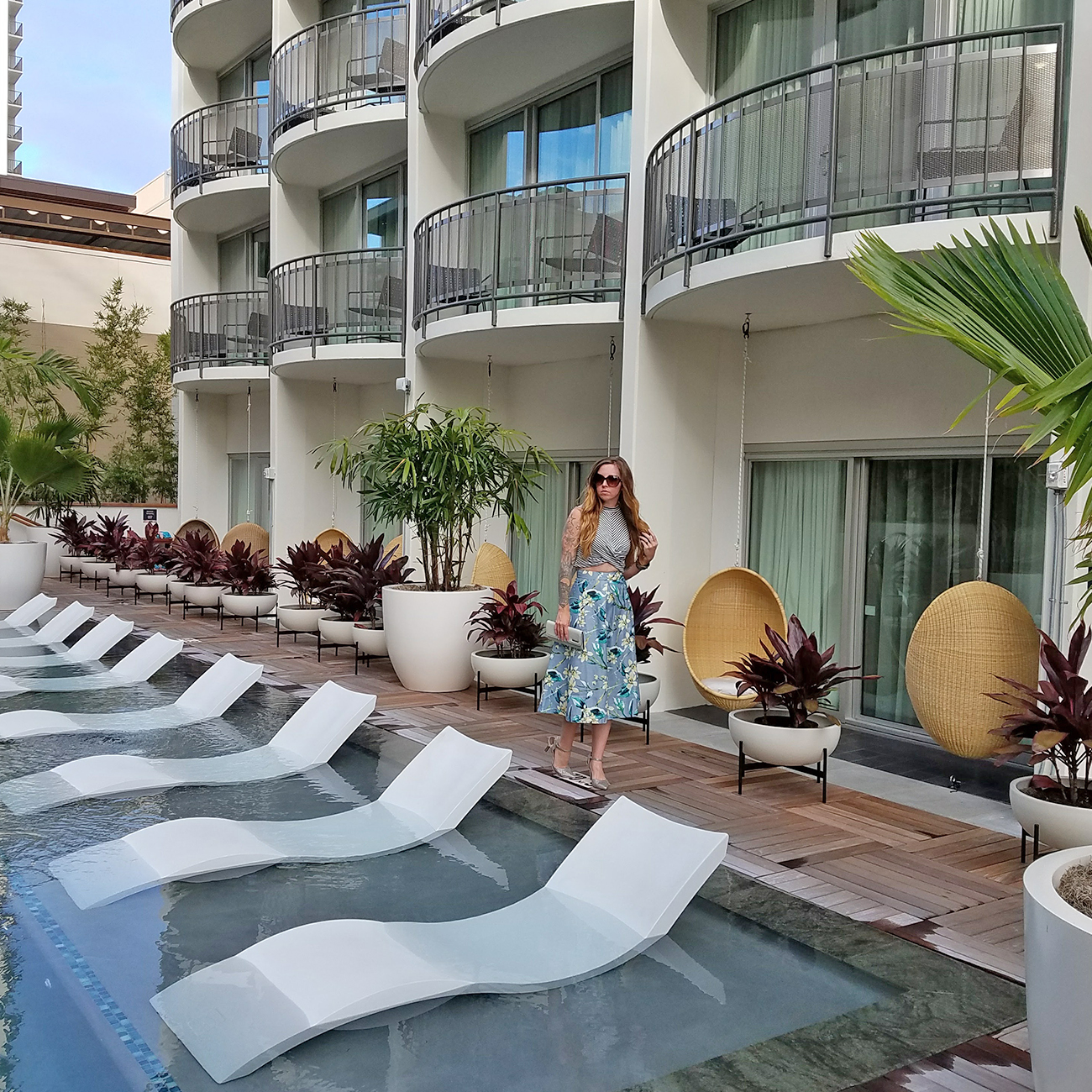 I was super excited that one of the cabanas happened to be available, and after asking if it was reserved, we were given the go-ahead to claim it! I was pretty much in heaven at this point.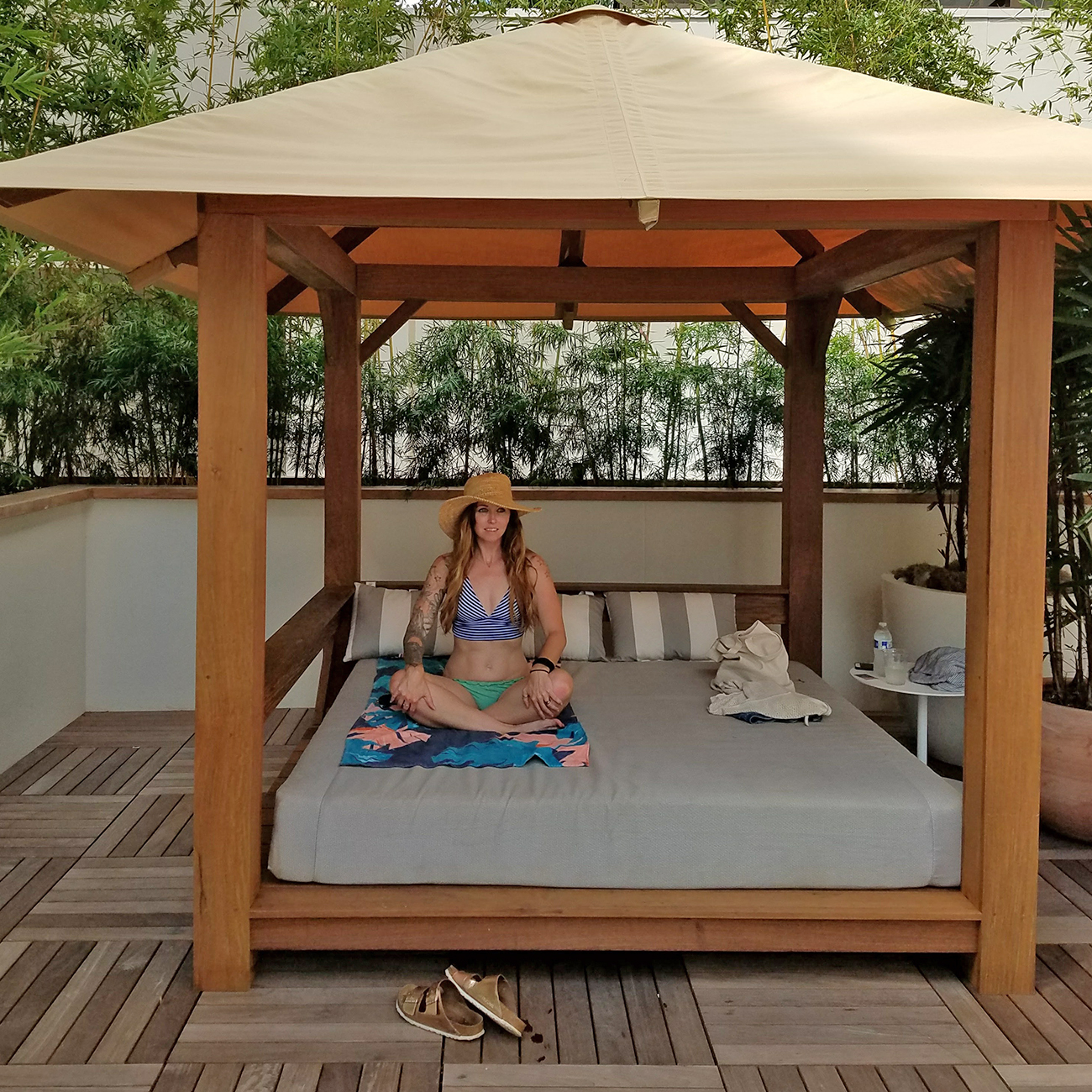 Oh! And one more thing to add. Breakfast. We ate at the Hideout and it was ah-mazing. I had this sort of eggs benedict style plate with shrimp crab cakes and potatoes. Oh my god, it was so delicious. The Mr. had the breakfast sandwich with Portuguese sausage and potatoes. Oh, and the coffee was top notch as well. An excellent choice for brunch whether or not you stay here.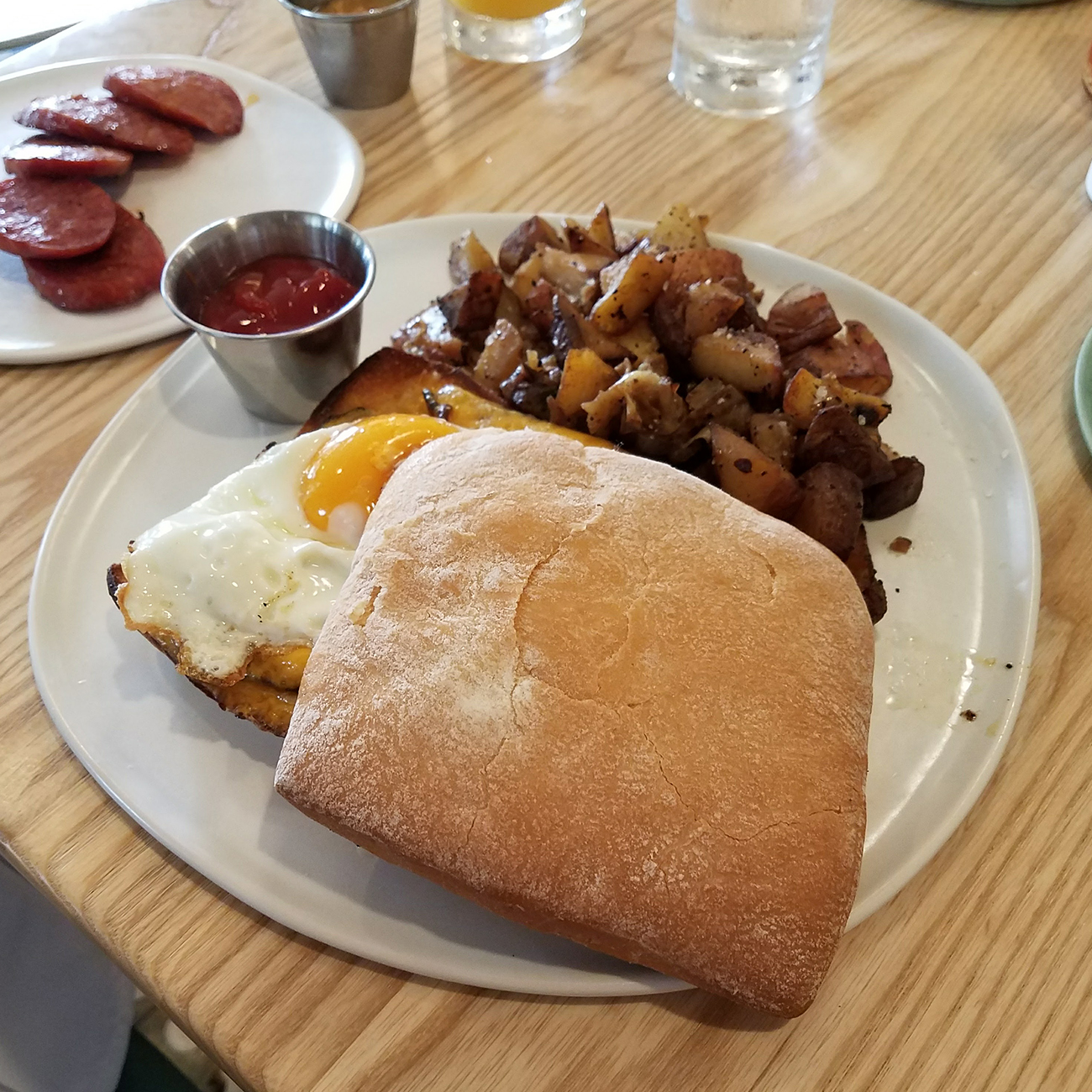 So I didn't want to leave but we needed to check-out by 11AM. I'm sure if we had asked they would have given us a later checkout (because they had given us an early check in!) but we needed to get back home to relieve Nana of her babysitting duties.
I had to leave my little Laylow dreamworld for the time being, but I know that I will return soon. If you are looking to stay in Waikiki I highly recommend The Laylow. It's uniquely styled, has great staff and as of right now has some pretty amazing rates. Check 'em out! Aloha.
The Laylow, Autograph Collection Waikiki
(Here are a few more photos to drool over. This place is super Instagram friendly)