This post contains affiliate links. This means that Aloha Lovely may receive a small commission if you decide to purchase any of the linked products or services. Please know that we only recommend products and services that we personally use and trust. Mahalo.
I believe the best way to capture someone's attention is through visual means. Sure blogging is about writing content as well, but for me there has to be a complement of great visuals to go along with type. I'm also an Art Director by profession so my bias is undeniable!
A couple of months ago I decided that I wanted to create a series of blog/brand resource posts. So far I have written a How to Start a Blog post and a Free Fonts post. This post will give an overview of how you can be your own blog photographer. You don't need a crew of people or a ton of money to create a professional presence. Read on to see how I make it work, using me, myself and I.
Equipment
So having a fancy, new DSLR camera is great. But, do you need it to take great photos? Not necessarily. Especially when just starting out you don't need any extra expenses. You can actually take some pretty great photos using just your smart phone. In fact, I use my Samsung Galaxy S7 Edge to take the majority of my photos. In addition to a decent smart phone, you also need some sort of setup to secure your phone and a way to capture the shot from a distance. My setup includes a basic tripod, phone adapter, and remote shutter.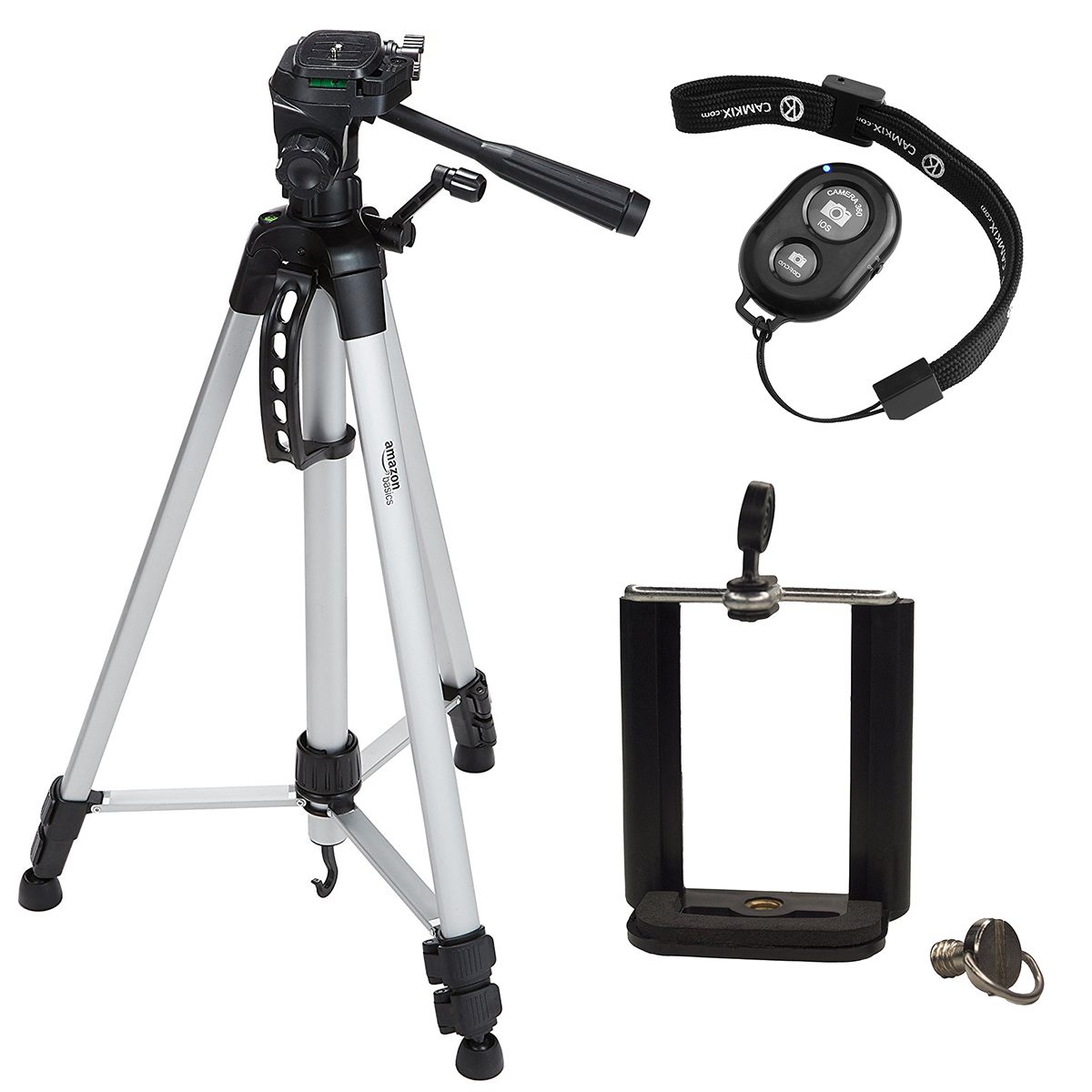 Tripod with Bag – $23.49
Tripod Phone Adaptor – $7.95
Bluetooth Camera Shutter Remote – $6.99
Everything required for this setup is super affordable. All of it is available through Amazon Prime which is very convenient (especially when you live on an island!) Don't have Prime already? You can sign up for 30 days free here!
All of these shots were created using the above setup. The possibilities are endless.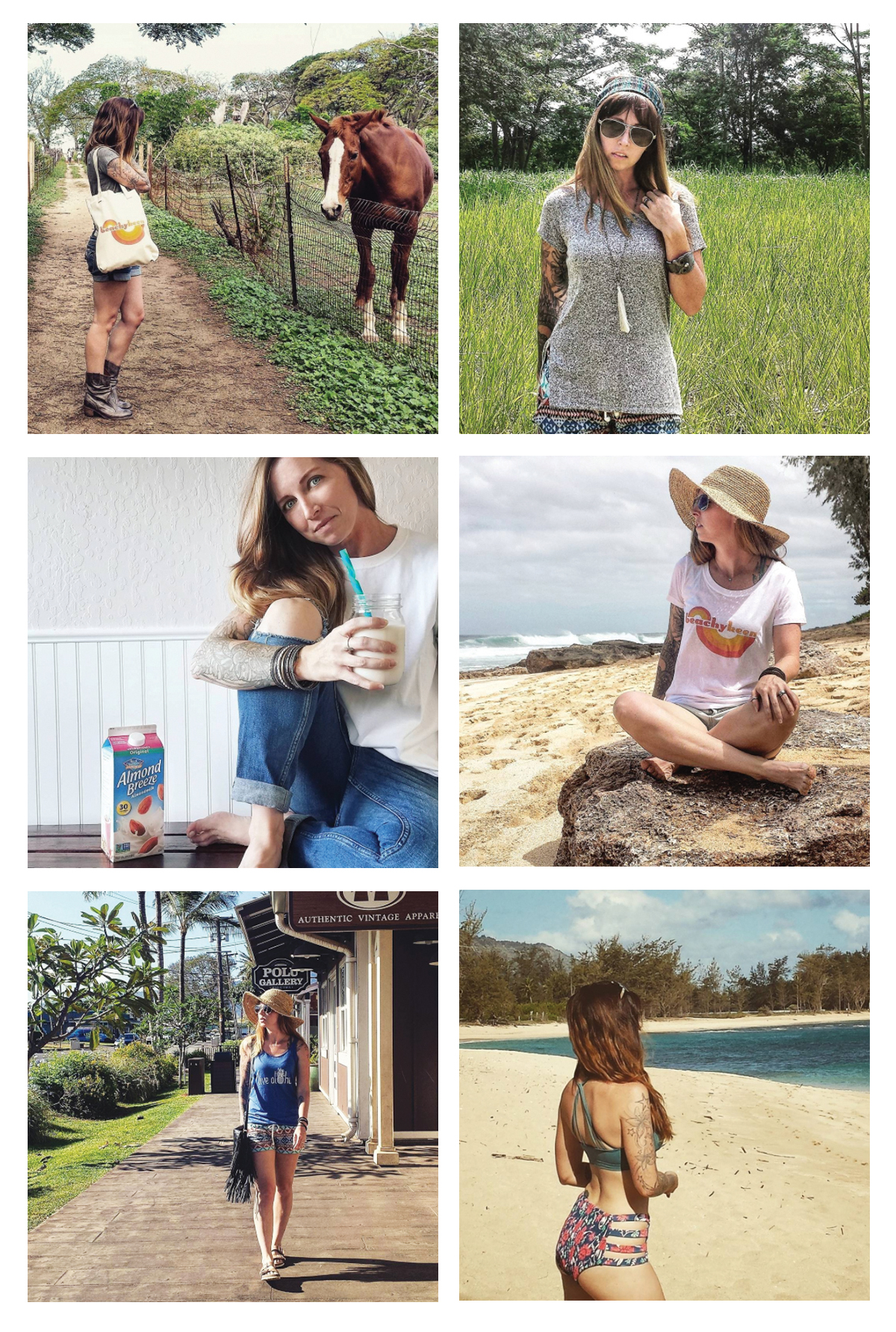 Locations
This all depends on your content and you probably already have an idea of what you want to capture but I suggest strategizing where you shoot so you can maximize your time. You don't want to spend the majority of your time driving, so try and think of your locations and the variety of environments the location might offer. For example, if I head to the North Shore on Oahu, I know I can shoot beach shots, Haleiwa town and maybe some jungle/palm tree backgrounds all within walking distance. I can use my time wisely to build up a library of content that fits my brand standards.
Looks
I try to bring 3-5 looks with me when I head out to shoot. I really want to make the most of my time. A variety of outfits, accessories, pieces from my shop. Then its a matter of figuring out the order of what you're shooting in which location. The fun of stealthily changing wardrobe in your car or fixing makeup is always an adventure.
Posing
Take a look at other bloggers and influencers out there. Try out some of the poses you see and you'll find out what feels comfortable for you. Walking shots are nice, towards the camera or away. Try and have a variety so your poses don't look always look the same. Take a ton of photos! For every shot I select there are probably at least 30 rejects. So shoot, shoot, shoot. You can never have too many shots when you are going through and making your selects. Oh, and be cognizant of the remote shutter in your hand, you'll have to find subtle ways to hide it in your shot.
Sure you might feel like a bit of an odd-ball taking photos of yourself in public. But think of the end result! You can even mitigate this by heading out early in the morning. You can get some really good lighting and there will be less people out. Go ahead, be your own blog photographer.
So what are your thoughts? How do you curate your blog photography? I would love to hear in the comments. Aloha!
Looking for more blog/brand resource content?
You like? Pin for later!